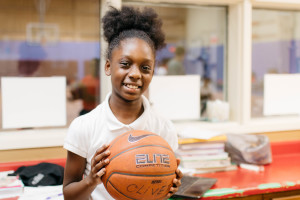 Meet Akya!  Akya is a 4th grader at Goodlett Elementary School and has been attending MAM Olivet for 4 years.  Akya's favorite classes are Math and P.E.  Akya absolutely loves playing basketball and hopes to play ball in college one day!  During her time at MAM, Akya loves to play basketball – as expected for such an awesome athlete – and to read.  Her favorite book is Diary of a Wimpy Kid.  This year Akya participated in the MAM Summer Reading Academy.  While in the Academy, Akya and the rest of the group took some field trips to places like Incredible Pizza Company and the movie theater, which she thought was so cool!
When asked what Akya has learned about God, she responded: "He helps us with everything!"  Her favorite Bible verse is John 3:16, which she has memorized and proudly quoted.  Akya has also learned about the importance of telling the truth, thanks to her favorite Bible story about Adam and Eve.  Akya explained how Adam and Eve got in trouble with God because they did not tell the truth about whether or not they ate fruit from the tree of the knowledge of good and evil.  "God gave them a chance," said Akya, describing God's forgiveness.  Through this story Akya discovered that she needs to tell the truth, "especially to her parents and other adults."
Akya described MAM so simply as "something that helps you learn about God."  Followed by: "the coaches show God's love in Bible study by reading Bible verses to me."  We are so proud of Akya, and appreciate her willingness to share her MAM story!