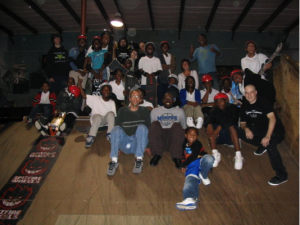 Pictured above is the first group of kids that Aaron (pictured in the middle wearing blue jeans) took skating in 2006.
Volunteer's Name: Aaron Shafer
Daytime occupation: Senior Analytical Development Scientist, St. Jude Children's Research Hospital
Volunteer Position and MAM Location: Skateboarding volunteer, MAM Greenlaw
Why did you decide to start Volunteering with MAM? Back in 2009, MAM had just starting leasing the community center from the City of Memphis. One of my friends, Mark Jannetta, was hired by MAM to work at the center. Mark's background was in the skateboarding ministry so he had acquired the skills for building skate ramps. With a grant that we had one from Nike, we were able to purchase the building materials to construct the mini-half pipe that currently resides inside the center. However, my work with the Greenlaw kids with skateboarding dates back to 2006 when I met Detric Golden. Detric, April and I took the kids on a couple of field trips to the indoor skate park known as the skate park of Memphis out in Cordova. Those field trips were kind of a test to see if the kids would take to skateboarding since most if not all of them had never been exposed to the activity. They loved it! Skateboarding became the way to connect with the youth and have a fun time getting to know them while introducing them to an activity that I loved to do. In short, volunteering for MAM was continuation of what we were already doing at the center.
Here's a little background on the ramp and the grant: https://www.memphisdailynews.com/editorial/ArticleEmail.aspx?id=55871
How long have you been volunteering with MAM? Since 2009 when MAM started running the Greenlaw community center.
Do you have a favorite memory from volunteering? I am not sure if you would call this a memory or a reflection. I would say my fondest memories or thoughts are just watching some of the kids, that I starting skating with back in 2006, grow up and become God-loving successful young men. One of those boys is now in his third year of college and the other is doing well with a successful rap career. It's been amazing to see how God used so many people to help these young men become who they are today. And quite humbling to realize I am but a mere thread of the fabric of the person that they have become through the work of Christ and the people in their lives.
Do you have any advice for someone who might want to start volunteering? Share something you love doing with the kids as an excuse to get to know and be a part of their lives. Be a consistent presence in their lives and enjoy watching and seeing how God will use your little effort to help these kids grow up into the men and women God intended them to be. If you really click with one or two, you'll have a little brother or sister for life.