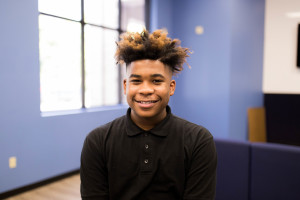 Keith Goins is in the 11th grade at Hamilton High School and has been attending the MAM Grizzlies Center for the past three years.
From an early age, Keith remembers hearing stories of his dad being a wonderful basketball player with great dreams to make it in the NBA.  Sadly, his dad "got into a lot of trouble" when he was young and could not pursue basketball as a career.  Despite the fact that his dad could not fulfill his goal, Keith has obtained a huge dream for himself!  Keith plans to be an ESPN analyst when he grows up.
When Keith was 7-years-old, "my mom became homeless," he explained to us with tears rolling down his face.  He described watching his mom struggling with finding a job – while having to separate her four children into different family members' homes – as the hardest thing he has ever experienced.  Keith lived with his grandmother during this time, and can remember watching his mom desperately filling out job applications.  "I remember she would always say 'God's got us!" Keith described.  Then one day, her faithfulness paid off!  Keith's mom got a waitress position at Chili's, where she remains a loyal employee today.
For as long as he can remember, Keith has watched sports, which has given him an incredible knowledge of the industry.  His role model in the sport industry is Stuart Scott.  Keith loves the fact that Stuart has a story similar to his own.  Stuart had to overcome many obstacles – including coming from an "abandoned neighborhood" – to get where he is today.  One day it finally hit Keith – he wanted to be a sports analyst like Stuart Scott, and just like that, he began pursuing that dream!
Currently, Keith is in a radio broadcasting class at school.  During a recent college fair at Hamilton High School, two schools heard about Keith's incredible skills in his radio broadcasting class and called him down to say they would love to offer him scholarships to attend their university so that he can pursue his dream of becoming an ESPN analyst.  The two schools are Louisiana Tech University and Murray State University.
Keith went home as soon as he could to tell his mom about these offers.  "When I told her, she was screaming and running around the room!" Keith described.  "Go.  Follow your dream!" Keith's mom told him.  "So that's what I'm gonna do," Keith said, "I'm gonna go follow my dream, for her."
This year, Keith is in the career readiness program at MAM, and is excited to continue learning what it will take for him to accomplish his dreams.  He is aware that it is going to take a lot of continuous hard work, as he has seen in his favorite athlete, Isaiah Thomas.  In describing his goals, Keith said: "I came from this neighborhood [South Memphis] – the ghetto – but I want to come out as positive!"
What a story!  Thank you for sharing, Keith!  We are so proud of you, and are excited to see you fulfill your dreams!