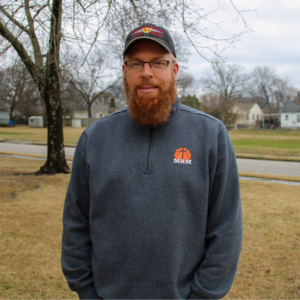 Jeff lived a nomadic childhood, moving from Phoenix to Boston to Albuquerque before moving to Memphis in 1993. He has lived in Memphis since then and calls it "home." Growing up, Jeff's mother would take him and his sister to church occasionally; however, they would visit churches of different denominations. Because they visited churches of different denominations, Jeff was kind of confused about Christianity. In high school, he was heavily involved in the music industry and signed a contract at age 17. He decided to drop out of high school to pursue his music career.
Jeff and his wife began seeking the Lord in 2007. He recalls a sermon that confronted him and his sin for the first time. He and his wife truly felt the need of a Savior and put their faith in Jesus Christ nearly twelve years ago. This put a passion of learning in him. He wanted to learn everything he could about the Bible. He decided he wanted to go to seminary, but first he had to obtain his high school diploma. In 2008, he completed an online high school program. Years later, he finally received a degree from Memphis Center for Urban and Theological Seminary. Jeff's family began going to Fellowship Memphis, and he joined a discipleship group. They met every Tuesday at five in the morning. This discipleship group allowed Jeff to grow and flourish in his faith. Over the last decade, Jeff and his wife have grown from a desire to know more about God, to a desire to know the God of restoration, redemption, and forgiveness. They realized they were attempting to rely on their knowledge instead of fully trusting in God.
Jeff first heard about MAM through his discipleship group at Fellowship Memphis. He heard a lot of stories from people who either worked or volunteered at MAM and thought it sounded like an amazing ministry. He had his own paint company and began painting MAM gyms. Through talking with Randy Odom, former President & CEO of MAM, Jeff became more interested in getting involved. Randy connected Jeff with the Neighborhood Director at MAM Magnolia, and he started working as a part-time youth coordinator in 2014. Five months later, a full-time position opened, and he was offered the job. Jeff was initially uneasy about the position. Working part-time allowed him to continue running his paint company and pick up other side jobs. However, he loved the kids and loved his job, so he trusted in the Lord and knew He would provide for his family. After working two years at MAM Magnolia, the neighborhood director position opened at MAM Leawood, and Jeff was encouraged to apply. He was offered the position and has been the Director at MAM Leawood for nearly five years.
Jeff loves the mission and vision of MAM. He is very passionate about God's word and sharing God's word. Jeff shares his passion of teaching the Bible with middle school boys. He remembers how difficult his first year at MAM Magnolia was when he led Bible studies with 10-12 middle school boys. They boys would get distracted and did not comprehend the theological terms Jeff used. Over time, he has adopted ways to communicate with them more effectively. He arranges the environment of the room, so that it is more conducive to learning, and he engages the students, making it an interactive lesson. Now, the boys compete with each other on who can answer the most questions correctly.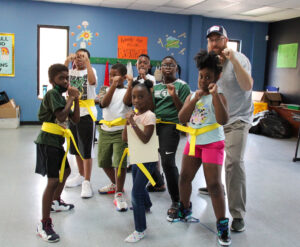 Jeff is also passionate about taekwondo, and he even launched a taekwondo class during MAM Summer Academy a few years ago. At the conclusion of the initial class, eight students earned their yellow belts. One of these students was Andrea, a quiet and shy elementary student. Jeff couldn't tell if Andrea actually enjoyed taekwondo. Jeff learned from his wife, who teaches a reading class at MAM Summer Academy, that Andrea actually loved the taekwondo class. Jeff asked Andrea about the class, and she said, "I love it so much. I've never known anything about karate or martial arts, but I feel like this is something I'm good at." Jeff mentioned that she is a quick learner and has grown so much in her skills. Andrea's mom recently told Jeff that she wanted Andrea to continue learning taekwondo and asked for outside recommendations. Jeff gave her a recommendation, and Andrea shook her head in disapproval. She said, "I want you to be my sensei!" Sensei is the term used to describe a taekwondo teacher. Hearing Andrea say this filled Jeff with joy! He hopes to continue teaching taekwondo at MAM Leawood.
While being at MAM for almost seven years, Jeff has learned to share the Gospel in a different way than the explicit proclamation of the Gospel – through his life, his walk, and his relationships. Working with youth has also grown his patience. Jeff says, "Being at MAM will definitely grow you."