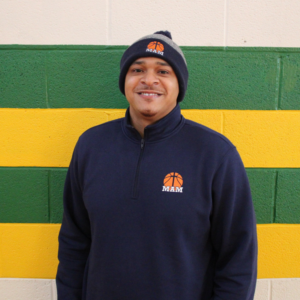 Gabe serves as the neighborhood director at MAM MLK Prep located in the same community he was born and raised, Frayser. He was adopted by his aunt and is the youngest of seven brothers and three sisters. His aunt always brought the family to church, and he was baptized at the age of 12.
Gabe grew up playing sports but had to make a decision in high school – to pursue football or basketball. He ultimately chose the latter which led him to meet Coach David Taylor. Coach Taylor became a mentor to Gabe, along with a few other players on the team. During the summer, Coach Taylor would pick up the team and take them to Shelby Metro to play from 8:00 am – 3:00 pm before their own practices. Gabe also remembers playing in the MAM basketball league when school was not in session. "We tore up the MAM league; our team use to run it," he recalls. Not only did Coach Taylor guide them in the sport of basketball, but he also walked alongside them with things going on off the court. Coach Taylor would always coordinate team study hall to ensure the guys knew that academics was the first priority.
After graduating from Craigmont High School, Gabe moved to El Paso to attend the University of Texas at El Paso. In addition to playing NCAA basketball, he studied criminal justice with a minor in business management. This was Gabe's first time being away from home, so there were a lot of new challenges to face and adjustments to make. He remembers leaning on Christ to help him navigate these challenges and says, "If I didn't have Christ in my life at the time, it [my life] could have easily went a different way." Gabe also received a master's degree in leadership studies from UTEP. After graduating college, he played basketball overseas in Lithuania and Japan for four years before returning home to Memphis.
Gabe found his way to MAM in January of 2021, in the middle of the pandemic. At the time, MAM was operating as virtual learning centers, offering a safe place for youth to attend while parents/guardians were away at work. Gabe recalls this time as challenging because he knew there were more youth in the Frayser community that needed to be reached. Now that MAM has resumed normal programming, Gabe enjoys leading daily devotional and life skills time. This more intentional time with youth allows him to gauge where kids are mentally, emotionally, and spiritually. While building relationships with youth is certainly his favorite thing about working at MAM, Gabe also loves spending time with the staff at MAM MLK Prep. Staff often spend time sharing with each other about life and what the Lord is currently teaching them.
While reflecting on his journey throughout life so far, Gabe says, "It means a lot to be from Frayser and work here. I see myself in them [the youth]. I needed an opportunity. I needed a mentor. This is huge for me to come back and help my community. It's something I'll never forget."