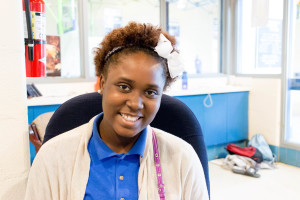 Deja is in the 9th grade at Manasas High School, and has been attending MAM Greenlaw for the last two years.  While at MAM, she loves being around Mrs. April, playing Phase 10 and learning Bible scriptures.
When describing her admiration of Mrs. April, Deja said she is "basically like a second mother.  I wasn't like I am now.  In 7th grade I was a handful… a devil child."  Because of Mrs. April, Deja said she has learned to "control her temper, be around people, and have a filter with words."
"He forgives me," was Deja's response to one of the things she likes about God.  Her favorite scripture is in Genesis 1:27 as we read that God described male and female in his own image.
Lastly, Deja shared her favorite memory at MAM was going to Incredible Pizza over the summer.  She said that whether out and about town or in the gym after school, MAM is like "a family up here."
Thanks for sharing, Deja!