For twenty-five years, Memphis Athletic Ministries (MAM) has provided a safe and nurturing environment for thousands of youth. We have witnessed firsthand the transformative power of sports, as our youth have learned valuable lessons such as teamwork, discipline and perseverance. But our ministry goes beyond the game, as we provide academic enrichment throughout the school year. Every program at MAM is Gospel-centered, and we strive to create a place where young people can feel loved, valued, and supported.
In celebration of MAM's 25th anniversary, we are excited to share 25 stories of impact from current students, alumni, parents, coaches, volunteers, donors, and community partners. These stories highlight the ways in which MAM has made a positive difference in the lives of many young people. Among these inspiring stories is our partnership with Club Pilates, a local fitness club that joined hands with MAM last fall.
Tara Barnes, along with her husband Phil, is a proud lifelong Memphian. With a professional background in Physical Therapy and Dental Sales, the couple is deeply rooted in their community. They opened their first Club Pilates studio in 2016 and have since expanded to three locations, located in East Memphis, Collierville, and Lakeland. Club Pilates is a locally-owned exercise franchise offering small group and private Reformer-based Pilates classes. This comprehensive workout not only improves muscle tone, flexibility, and strength but also promotes overall well-being. Tara and Phil wholeheartedly believe that Pilates is a workout accessible to all, and everyone can benefit from it. They are passionate in their belief that Pilates is for everyone, regardless of age or fitness level.
Tara's journey with MAM began through a personal connection. Eliza Fletcher, kindergarten teacher and mother-of-two, was tragically killed in early September 2022. She was a friend of Tara and a cherished member of the Club Pilates studio. The desire to honor Liza's memory and make a positive impact in the city led Club Pilates to connect with MAM, as Liza's church, Second Presbyterian Church, has been involved with MAM for numerous years.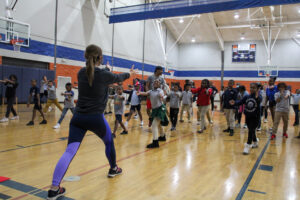 The Club Pilates community began its volunteering journey last September. Their involvement started with offering free mat Pilates classes to youth in our afterschool program. Additionally, they gathered a group of club members and their families to host a tailgate for MAM's volleyball and basketball games. Tara notes that the mutual exchange of encouragement, high-fives, and teamwork between the volunteers and the children create lasting memories and a boost in confidence for everyone involved.
Tara's favorite aspect of volunteering at MAM is the atmosphere of love and laughter within MAM sites. Witnessing children transform from being quiet and reserved to opening up, laughing, making friends, and actively participating in fun activities is a gratifying experience. Through their involvement with MAM, Tara and the Club Pilates community have learned that teaching skills and helping others can be a source of immense joy. The impact on the kids' lives is tangible, and witnessing them make positive choices and build confidence through MAM's programs has left a lasting mark.
Tara believes that MAM's work plays a pivotal role in nurturing the youth of Memphis. By offering free afterschool programs, sports, mentoring, and Bible studies to underserved communities, MAM provides a safe haven where children can learn, grow, and develop life skills. MAM has significantly contributed to a better Memphis by showing young individuals the rewards of making positive decisions. In a city where the challenges for youth are numerous, MAM is a beacon of hope, helping youth navigate these challenges with confidence and resilience while pointing them to a brighter future.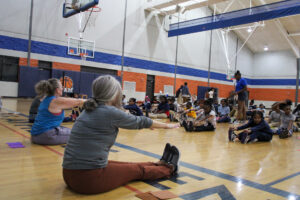 Club Pilates chose to partner with MAM because of their shared vision of creating a more positive and healthier Memphis. The alignment of goals and the genuine desire to make a difference in the lives of Memphis youth led to a meaningful alliance that exemplifies the power of community. As MAM commemorates 25 years of ministry, the partnership with Club Pilates stands as a shining example of the impact that can be achieved when individuals and organizations come together with a shared purpose. This collaboration reminds us that by investing in the next generation, we pave the way for a brighter and stronger future for our beloved city.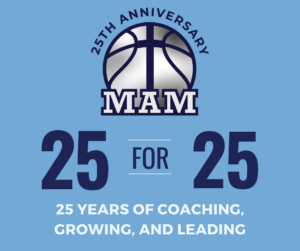 Join us in celebrating the 25th anniversary of Memphis Athletic Ministries by becoming a monthly donor, or a MAM MVP. For just $25 a month, you can help us continue to provide a safe and nurturing environment for youth to experience Gospel-centered sports and afterschool programming. Your monthly donation will make a significant impact on our ministry, allowing us to provide even more opportunities to coach, grow, and lead the youth of Memphis. Click the image above to give $25 for 25.