In celebration of National Mentoring Month, local mentoring organization MENTOR Memphis Grizzlies hosted a virtual awards ceremony to highlight people and organizations that are making a difference through mentoring. MAM Mentor Program Director, Kenyatta Morris, was recognized for her outstanding leadership and received the Mentor Practitioner of the Year award. Kenyatta began her career at MAM as a part-time front desk assistant and cheerleading coach at MAM Olivet in 2011 and took on the role of Mentor Program Director in 2018. Mentoring has always been an important part of Kenyatta's life, as she reflects on experiences with her own mentor. "Cheryl showed me what Christ looks like by walking with me. She gave me the opportunity to mess up but still loved me and poured into me," Kenyatta says.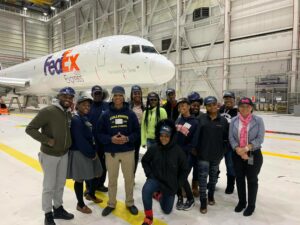 Kenyatta & 2019-20 AMP Cohort touring the FedEx Aircraft Hangars
Kenyatta is committed to overseeing all aspects of MAM's Amplify Mentor Program (AMP) and overall high school programming which includes, but is not limited to, developing and implementing curriculum, managing AMP students, and training staff on best practices. Our AMP program helps develop critical social skills, encourages academic achievement, and gives high school youth a sense of belonging. Participants benefit from a one-on-one relationship with a caring adult who helps them navigate their high school years, and more importantly, the transition from high school to employment, military, or college. This program consists of character development, setting goals, ACT prep, college prep, and career readiness training (interviewing techniques, soft job skills, resume writing, and more). Upon completion of the year-long program, Kenyatta hopes that AMP participants have the necessary resources to thrive once they leave MAM.