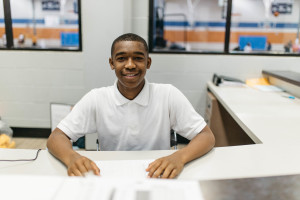 Ky'ron is in the 10th grade at Hamilton High School and has been attending the MAM Grizzlies Center since 2nd grade.  In his first year of MAM's career readiness program, Ky'ron has learned many things from Coach Kyle including resume building – "you shouldn't leave anything blank, be truthful, and have good references" – and plans to go to college.  Through the career readiness program, Ky'ron works at MAM as a student assistant.  His job entails "overseeing younger children, handing out meals in the kitchen, volunteering to clean up the neighborhood, serving the community and managing the computer labs and lobby."  He has learned much about what it means to have responsibilities and to complete tasks well.
During his years at the MAM Grizzlies Center, Coach Ben has taught Ky'ron many wonderful life lessons.  "Coach Ben has taught me how to step up and be a leader," Ky'ron shared. "I need to be the bigger person and help people out when they're in need without having to ask."  He has enjoyed getting to be a "role model for the younger kids" at MAM.  Coach Ben has also taught Ky'ron that "some things in life don't go as planned, but you just keep trying."  Ky'ron has also learned the value of setting priorities for himself, like graduating from high school in two years.  He plans to "do the right things, stay out of trouble, and hang out with the right friends" to complete that goal.
His favorite memory at MAM was when Ky'ron and his small group played foot golf at the MAM Park golf course and "even though some people lost, Coach Ben still took us all to get ice cream."
Ky'ron has also learned much about God during his time at MAM.  "God wants you to spread his word; don't just keep it to yourself.  Spread it as much as you can!" he advised.  Ky'ron's final message to everyone was: "Join MAM – it's a community. It helps you thrive in life and experience the word of God."  Thank you for sharing, Ky'ron!  We are so proud of you!