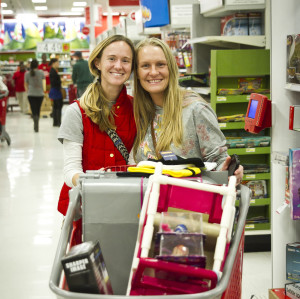 Hardworking mom, Star Eason, had the opportunity to participate in the 2015 MAM Christmas Store, ensuring that her three kids got to experience Christmas to the fullest.  Jaden (age 13), Emma (age 9), and Austin (age 10) have attended MAM Leawood over the last five years.  After paying bills, feeding her three kids, and supporting herself on a Perkins waitress salary, Star cannot always manage to provide Christmas gifts to her family.
"I was really amazed to be chosen to participate!  We were going through some stressful family issues and this experience was such a blessing. I was truly overwhelmed with how God made the pieces fall together," Star shared. 
Each year MAM chooses 20+ families from our eight gyms to participate in the Christmas Store.  These families – one mom, dad, or guardian – get to shop at Target for their children's Christmas gifts, which are then wrapped beautifully in Christmas paper, thanks to our amazing volunteers.  By providing gift cards and a MAM staff accompaniment, these parents and guardians can maintain their dignity in picking out gifts for their kids.  However, our hope and prayer is for this experience to be something more than the toys, clothes, and the temporary "happiness" we receive from cultural Christmas.  This opportunity allows us to share the gospel with our kids' parents!  We were excited to hear Star say:
"I had a great time shopping!  Coach Sarah helped me shop and we enjoyed each other's company.  The whole experience was wonderful – it was more than just shopping for Christmas, it was fellowship and laughter and fun!"
Because of the MAM Christmas Store, Star became friends with Coach Sarah!  Now, when Star comes up to MAM Leawood to pick up her kids at night, she feels like MAM is a safe place for her as well.  Star finds emotional stability in talking with Coach Sarah, and knows that there is hope.
Isn't that was Christmas is all about – finding hope?  More specifically, we know Christmas is about finding hope in Jesus Christ, which can easily be seen through the fellowship of believers.
Friends, we ask that you consider donating to the MAM Christmas Store – in hopes that more moms, dads, and guardians can find their hope in Jesus this Christmas!