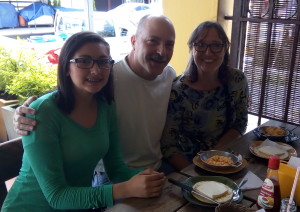 Pete and Janet with their God-daughter in Columbia
Volunteer's Name: Pete and Janet JohnsonDaytime occupation: Pete-International Aircraft Dispatcher for Fedex, Janet- Physical Therapist Assistant at the V.A.
Volunteer Position and MAM Location: Reading help at Leawood.
Why did you decide to start Volunteering with MAM? Our son Isaac is a MAM coach. He roped us in and we enjoy it!
How long have you been volunteering with MAM? Possibly 9 months.
Do you have a favorite memory from volunteering? We enjoy reading with the kids. But also I have really enjoyed some of the teaching games played with the boys. Word association/ definition games and such. It is fun to see them enjoy learning with the unique approach.
Do you have any advice for someone who might want to start volunteering? Try to be consistent so that you can build relationships. The kids notice the volunteers who come back consistently. They are happy to see you again!