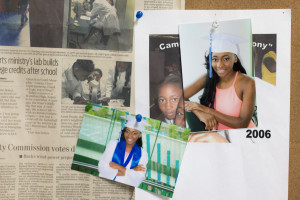 Meet Angela "Peach" Maxwell.  18-year-old Peach began attending MAM St. Andrew when she was just 6 years old!  At this young age, Peach met Coach Ernie and it did not take long for their bond to form.  Coach Ernie took Peach, and her two brothers, under his wing and has treated them as his own.  In describing Peach, Coach Ernie shared that she has fought through some really tough struggles to get where she is today, including weeks he remembered where their family did not even have electricity in their home.  Peach would still faithfully attend MAM each day after school.  Coach Ernie watched as Peach grew; he saw her go to middle school, high school, and even the senior prom!  However, his proudest moment was "watching her get up and join the church and ask to be baptized." Coach Ernie said he was so shocked to see her stand up and make that commitment, but he could not be more excited.
Another MAM St. Andrew staff member, Coach Willie, has seen Peach grow through the years as well.  "I admire that she didn't let her environment control who she was," said Coach Willie.  He describes Peach as funny and headstrong; "one minute you want to throw her out, one minute you want to keep her in." Altogether Coach Willie said "every year Peach has grown.  I'm not saying she's perfect, but she has grown!"
Thanks to the love, nurturing, encouragement and persistence Peach received from her MAM St. Andrew family, Peach graduated 5th in her class from Hamilton High School in May and TODAY she begins her first day as a freshman at Middle Tennessee State University!  Peach received $45,000 in scholarships to attend MTSU, where she plans to study biology over the next four years.
"The beauty is that God doesn't tell us it's going to be perfect, but he's going to walk with us through it" Coach Willie reassured.  However, he continued, "they say it's easy to be successful, it's hard to stay there."  Coach Willie admits that "this is a lot of pressure on a young lady.  She's the first person to go to college in her family.  The world is giving her every excuse to quit."  So this is our prayer – for Peach to continue to be successful and not let the pressure bring her down.  Please join us in liftng up Peach during this exciting, scary, new world of college!  Pray that she will find a wonderful community of believers – young women – to come alongside her and keep pushing her towards Jesus!