Choose 901 blog, February 23, 2016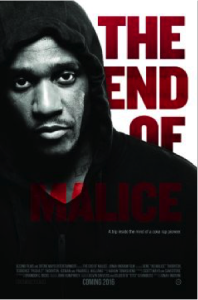 Memphis Athletic Ministries is partnering with Second Films to bring a special screening of a new movie, "The End of Malice," to the city.
When: Tuesday February 23, 7:30 pm
Where: Malco Studio on the Square (2105 Court Ave)
A portion of ticket proceeds will benefit MAM
"The End of Malice" tells the untold story of hip-hop star and former Clipse member Gene Thornton's journey from "Malice" to "No Malice." It addresses the fascination in urban communities with the rap and drug culture.
"We believe this movie will spark compelling conversations within our community about what it takes for people, especially our city's vulnerable youth, to change their lives."   -Randy Odom, Memphis Athletic Ministries President and CEO
Memphis is one of the stops in the 15 city tour for the film. The movie features Gene "No Malice" Thornton, Pharrell Williams, and Pusha T.
MAM provides year-round mentoring programs for inner city and at-risk youth from ages 8-18. The organization targets 8 disadvantaged neighborhoods in the city and partners with families, schools and other organizations in these communities.
"MAM intentionally promotes the Gospel in all we do. The message of hope in this movie complements our mission and will inspire our youth as they face the same struggles in their everyday lives."  -Randy Odom, Memphis Athletic Ministries President and CEO