In every community, there are individuals who rise above the challenges they face and become beacons of hope for others. Marlo, a former youth participant at Memphis Athletic Ministries (MAM), is a prime example of such resilience. Born and raised in the Parkway Village neighborhood, Marlo's life was transformed through his involvement with MAM, which not only nurtured his passion for basketball but also instilled in him a strong spiritual foundation. Today, Marlo is giving back to the organization that made a significant impact on his life as a dedicated volunteer. 
Marlo's introduction to MAM came during his early school years when he stumbled upon flyers promoting the organization's programs. As an avid basketball player, Marlo seized the opportunity and began his MAM journey.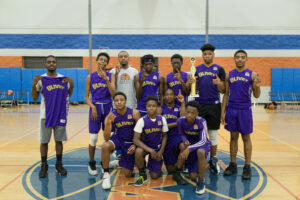 Throughout his time as a MAM participant, Marlo actively engaged in various programs that shaped his character and prepared him for the challenges of life. Sports, particularly basketball and flag football, taught him essential qualities such as discipline, coachability, and leadership. At MAM, Marlo honed his basketball skills, developing a love for the game and learning the value of teamwork and determination.
Moreover, Marlo's involvement in MAM's Bible Study sessions allowed him to deepen his faith journey. Through these weekly gatherings, he learned about the Bible and the transformative power of the Word of God. Marlo's existing connection to his church was further strengthened by his involvement with MAM's faith-based activities.
Another pivotal program that played a vital role in Marlo's personal development was MAM's Amplify Mentor Program (AMP). Within this program, Marlo learned essential skills like leadership, effective communication, and the ability to adapt to different situations. One of the highlights of his AMP experience was being paired with a mentor, RL Thompson, who became a father figure and introduced him to various aspects of personal finance, retail, and even took him to his first Memphis Redbirds game.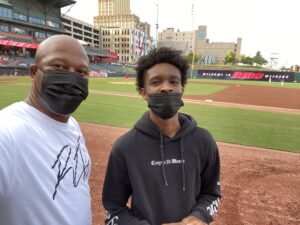 Like many young people, Marlo faced personal challenges growing up. However, MAM provided a safe space where he could confide in and seek guidance from his coaches, Courtney and Lindell. Their attentive ears and insightful advice helped Marlo navigate difficult times and provided him with the support he needed to overcome obstacles.
Marlo acknowledges the profound impact his MAM coaches had on his life. Without their mentorship and guidance, he believes he would not be the person he is today. The coaches' unwavering commitment to his growth and well-being left an indelible mark on his character, shaping him into a respectful and responsible individual.
Having experienced MAM firsthand, Marlo eagerly embraced the opportunity to give back to the organization after his graduation. As a volunteer, Marlo lends a helping hand whenever MAM needs assistance. He particularly enjoys engaging with the kids, playing alongside them, and serving as a positive role model. Marlo's previous coaches now rely on him to support the younger generation, ensuring they stay on the right path and away from trouble.
Marlo's future plans are ambitious and reflect his determination to make a positive impact. Currently working at a furniture company while attending Southwest Community College for business studies, Marlo aspires to pursue basketball professionally, potentially playing overseas. Should basketball not materialize, he dreams of starting his own business, with a vision of opening a gym for kids in the future.
Marlo firmly believes that MAM plays a pivotal role in making Memphis a better place. By providing a nurturing environment for at-risk youth, MAM offers a sanctuary where young people can develop their potential, build meaningful relationships, and pursue positive goals. The organization serves as a catalyst for community building, fostering a sense of unity and family among participants.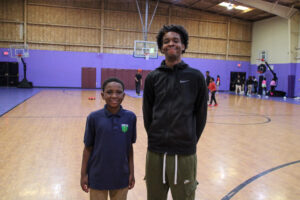 Marlo's journey from a young MAM participant to a dedicated volunteer is a testament to the power of organizations like MAM. His unwavering gratitude for the support and opportunities provided to him drives his desire to be a mentor and role model for future generations. Through his experiences, Marlo exemplifies the positive impact that MAM has on the lives of its participants and the wider community. As Marlo continues to navigate his path towards success, he remains committed to sharing his love for basketball, the Word of God, and the life-changing opportunities MAM offers.
In the words of Coach Shanel, Marlo's impact is evident, as he is "definitely loved and respected by many" within the MAM community. Marlo's story serves as an inspiration, reminding us of the importance of investing in the potential of young individuals and the profound difference it can make in their lives and their communities.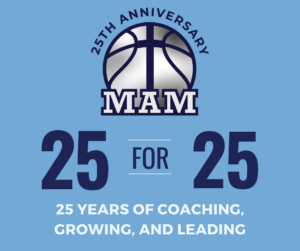 We invite you to celebrate Memphis Athletic Ministries' 25th anniversary by becoming a monthly donor, or a MAM MVP. For only $25 per month, you can help to provide a secure and nurturing environment for young people to engage in Gospel-centered sports and after-school programs. Your monthly contribution will make a significant difference in our ministry, enabling us to continue to coach, grow, and lead the youth of Memphis. Click the image above  to give $25 for 25.
By becoming a MAM MVP, you'll be joining a team of individuals dedicated to making a positive impact in the lives of our young people and, ultimately, the city of Memphis. We encourage you to become a part of our community and help us continue our vital work.