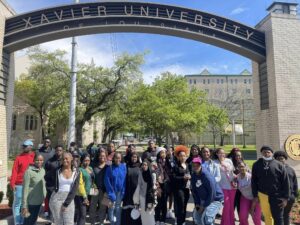 Youth attended five colleges across the South.
While most youth went on a vacation or spent time relaxing at home over spring break, thirty-one youth loaded a bus to visit multiple colleges across the South. Within this group were high school students from MAM and Refugee Empowerment Program (REP). The first stop was Jackson, Mississippi, where youth visited Jackson State University and Belhaven University. Next, they set off to New Orleans, Louisiana, to visit Dillard University and Xavier University. Their final stop was Marshall, Texas, where they toured Wiley College.
Kenyatta Morris, MAM's middle/high afterschool director, coordinated the trip with the goal to expose youth to Historically Black Colleges and Universities (HBCUs) in the region. Kenyatta says, "Studies show that HBCUs are meeting the needs of low-income and first-generation students which represent most of MAM youth. Additionally, students attending HBCUs have increased levels of engagement and more interactions with faculty due to the smaller setting." Even after ten years of leading college trips, her excitement has not wavered. She is always overjoyed at seeing the kids' faces light up as they step off the bus onto a new college campus. "It's an opportunity to give students the chance to dream and to have hope. Being on a college campus makes it more realistic for the students," Kenyatta says. Five students applied to colleges on the spot, something that might not have happened had they not attended this trip.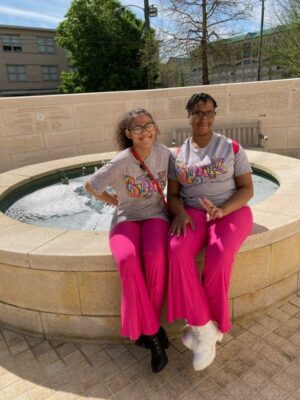 Kaitlyn & Calviana 
Youth were able to see various college campuses in person, interact with current students and faculty, and ask questions about academic programs, campus life, and more. Kaitlyn, 11th grader at MAM Leawood, is very interested in attending Xavier University. She loved the campus and was pleased to learn that they offer a double major opportunity in her desired areas of study. Students plan to look further into the colleges they visited and other colleges of interest, as well as research trade schools, employment opportunities, and other post-secondary options.