"If it weren't for MAM, I would have probably moved back to Chicago. This is like my second home and family."
Tacorion
When Tacorion moved in with his grandparents in November of 2020, he did not know that he was within walking distance of MAM Hamilton, the place that would become like a second home to him. Initially, Tacorion was in "defense mode." Being the new kid from Chicago, he felt like he couldn't trust anyone and needed to have his guard up at all times. Shortly after enrolling at Hamilton High School, Tacorion heard about MAM. When he attended MAM Hamilton for the first time, he was blown away by how welcoming and friendly the coaches and youth were. Tacorion was especially impacted by Coach Charles. Throughout the pandemic, Charles regularly brought food and other much-needed resources to Tacorion and his grandparents.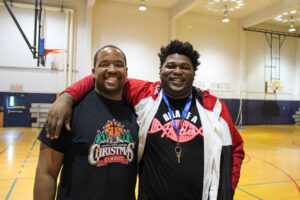 Coach Charles and Tacorion
Everyday a MAM coach shares a short message about Jesus before activities begin. It was during this time that Tacorion realized he had built such a strong wall of defense that he was not even allowing God into his heart and his life. Through these daily messages about Jesus and spending time talking with Charles, Tacorion began slowly letting his guard down. He describes Coach Charles as his role model and appreciates that he pushed him to grow as a person and become a leader at MAM Hamilton. Because of Tacorion's leadership and spiritual growth, when a part-time youth coordinator position opened up at MAM Hamilton, Charles immediately thought of him. Tacorion knew he wanted to continue being a part of the community that welcomed him with open arms. Because he was impacted at MAM, Tacorion wants to impact the next generation of MAM youth. He will spend his summer doing just that, working with youth at MAM Hamilton.