"To everything there is a season, and a time for every purpose under heaven." Ecclesiastes 3:1
After we closed our gyms in March in response to COVID-19, we shifted our energy to connect with MAM kids virtually and provided more than 84,000 meals to over 6,000 families. On August 31, we reopened our gyms and welcomed back almost 250 students at six locations in high-needs neighborhoods across Memphis. Each center serves as a virtual learning center and provides after-school programming, in COVID-appropriate ways.
MAM is proud to serve our city's students during this challenging time. Our staff- to-student ratio is better than 1 to 10. We enhance student focus with headphones and white noise machines. Students are provided breakfast, lunch, and snacks. Structured breaks throughout the school day give students the opportunity to get their creative juices flowing and their hearts pumping.
Of course, we enhance safety with masks and plenty of hand sanitizer, six feet between desks, daily COVID screenings and extensive cleaning. In partnership with the City of Memphis, we have mandatory COVID testing for our staff every 10 days.
After the school day is over, small group activities, such as games and Bible studies take place, allowing MAM to serve working parents with extended childcare.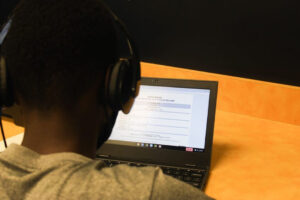 "Every single one of my kids who go to MAM for virtual learning has been at every Zoom call and on time. The Wi-Fi connection is good. The kids already know how to work their devices. And the noise level in the rooms make it evident that every scholar is focused on their classes. I have been super grateful for MAM and wanted to let someone know." 
Kayla Jernigan, Vision Preparatory School teacher