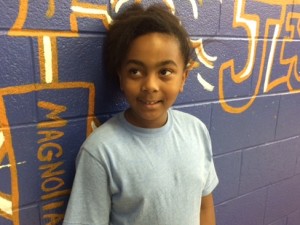 Daisa is eight years old and will be in third grade at Rozelle Elementary. This is her first year to go to summer camp at MAM Magnolia. She likes making new friends and learning things like she does at school.
Daisa's favorite color is blue; her favorite food is salad; her favorite book is Dr. Seuss's The Cat in the Hat;
and her favorite game at MAM is Hide-and-Seek.
She says the coaches talk about the Fruit of the Spirit and have shown her how to be kind by being kind to each other as well as to the kids.
Daisa says that her coaches have also taught her to be grateful.
We are grateful that Daisa is part of MAM Magnolia summer camp!