www.up2us.org/blog, Thursday, May 19, 2016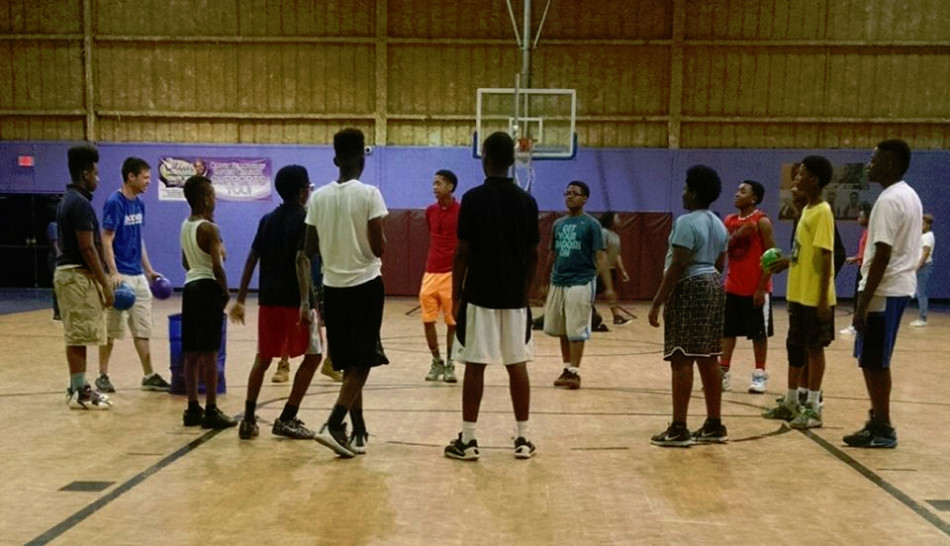 Coach Nick got his start at Memphis Athletic Ministries back when he wanted to be a teacher, now he's happy to say he's 100% coach. The city of Memphis has a strong loyalty to the sport of basketball, so the idea of coaching the sport – admittedly not knowing much about basketball or sports in general – seemed quite intimidating to him. However, almost immediately Nick fell in love with the position and the mentor relationship he began to develop with the kids. "I love coaching. The whole aspect of it," Nick says. Memphis Athletic Ministries (MAM) is an after-school program that works with the youth from inner-city neighborhoods in Memphis. Aside from participating in basketball, the program participants also have access to homework help, bible studies, and other seasonal sports. They use sports, specifically their community basketball programs, to bridge geographic, cultural, and socio-economic differences by offering a high quality athletic program to all youth, regardless of which parts of Memphis they live in.
Nick has put a lot of effort into building his basketball team from the ground up, using drills that work on consistency and ball-handling. Nick explains how he keeps the kids motivated, mostly by asking them questions — a tactic he learned at an Up2Us Sports Coach Training Institute. He says, "I have really had to teach them discipline and focus, by continuously asking them, 'What is our goal?' To get the ball into the hoop. 'How are we going do that?' By practicing and working together." Since Nick does not have a coaching background or a basketball background, he relies greatly on the coach training he received through Up2Us Sports and talking with other Coach Across America coaches.
While at an Up2Us Sports Coach Training Institute in Miami last summer, Nick was able to meet other coaches from across the country from all walks of life. A self-proclaimed introvert, Nick hasn't always had the easiest time relating to other people; however, he found that relating to his fellow CAA coaches came naturally to him. Attending the Institute was able to help him break out of his shell and gain confidence in his coaching. He feels, "the Institute gives us tools to communicate better with the kids, and has given me the tools to be more extroverted as a coach." Additionally, Nick said, "my confidence in myself has grown." By participating in valuable training sessions, seminars, and games designed to help engage the kids in the programs, Nick not only grew his coaching skills-set and confidence, but increased his own confidence and capacity to better relate to others.
So far in his service term at MAM, Nick has been able to see significant growth and progress in one particular player named Dedrick. Nick knew early on that the two of them would develop a special bond and that Dedrick would make a great impact on his attitude towards coaching. Dedrick liked to clown around and didn't take his role on the basketball team seriously. Nick went above and beyond for Dedrick, wanting to help him mature and become more physically fit. Nick helped him set a fitness goal of being able to run two laps around the field without stopping, and promised to run it with him. Every day Dedrick and Nick would run laps outside, until the end of year when Dedrick was able to complete the laps himself without stopping and without Nick by his side. Although this accomplishment may seem small to some, this was a milestone for Dedrick, teaching him that goals are obtainable with a little encouragement and focus. Dedrick couldn't wait to tell the other kids and the other coaches what he was able to accomplish, and witnessing Dedrick's proud moment was one of the most rewarding moments in Nick's life.
For Nick, serving as a coach-mentor to the kids in this program reminds him that there is more to coaching than just a focus on winning. Nick values the relationship he is able to build with each individual child, and enjoys encouraging them to be the best they can be. Nick's goal for the kids in this program is for them to be able to recognize the importance of teamwork and effort, and that having someone they can rely on is really all that matters. "I want them to see themselves more united as a team. I also want them to be able to be there for each other," he says. Nick is grateful to be an influence in the lives of so many of Memphis' youth, and hopes to grow as a coach and as a leader with the help of Memphis Athletic Ministries and Up2Us Sports.