LOCAL MEMPHIS LIVE with Amy Speropoulos
The Mission of Memphis Athletic Ministries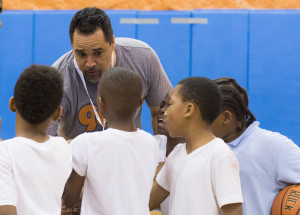 MEMPHIS, Tenn. (localmemphis.com) – Juvenile crime goes up 300% during after school hours. In the city of Memphis, the urban community is marked by a high rate of juvenile crime, high poverty rates, several single parent families, and cases of low academic achievement. But Memphis Athletic Ministries is working to cut those numbers in half.
For 15 years, Memphis Athletic Ministries has been a beacon of hope for inner city kids in under resourced neighborhoods.
"They might be a latchkey kid where a mom or dad or grandparent is working, and they get out of school and they need a positive place to be," says Coach Randy Odom, President of MAM. "I grew up like that so I can relate."
Coach Randy Odom has been with MAM since it started as a program that operates in eight community centers in the 901. The program averages some 765 kids a day. Using sports to get them in the door, the group helps with academics, building relationships, friendships, teaching life skills, and ultimately how to have a relationship with Jesus Christ.
"Our kids are unbelievable. They come with passion, they love the city, they work hard in school. They just need an environment like MAM provides, where a godly person can connect them to those resources so they can take advantage of those things," says Odom.
A holistic program with a Christ-Centered ministry that teaches things like financial literacy, career readiness, and love.
"We want our coaches to believe in them, to look them in the eye and say, 'you know what, you matter, I believe in you.' A lot of times that's all the young people need," says Odom. "No matter what economic background you come from, no matter how old you are, you can give back to someone else in the community"
Local 24 has teamed up with Hollywood Furniture and Hardware Company for our Nexstar Founders Day of Caring. Nexstar, Local 24's parent company, is celebrating its 21 anniversary. To celebrate, Nexstar employees are engaging in community service on Friday, June 16th. This year we are serving Memphis Athletic Ministries' golf course.