www.thelpbc.com, Wednesday, March 30, 2016
Today's children and teens are tomorrow's leaders, and a number of Memphis organizations are playing a part in developing those leaders.
Whether it's sports, one-on-one mentorship or educational assistance, these efforts are used to help Memphis youth realize their potential in a safe and fun environment.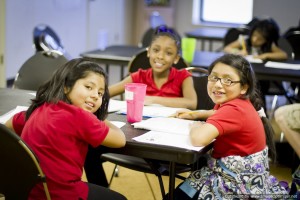 Memphis Athletic Ministries uses sports to reach youth across the city. MAM has eight gyms and one golf course in urban neighborhoods where it has offered after-school programs for at-risk youth ages 8 to 18 for the past 13 years.
The gyms are open six days a week, from when school gets out to about 9 at night.
"We just want to see our youth become Christ-centered productive adults," said Randy Odom, CEO and president of MAM. "We use sports and relationships with coach youth mentors to do that. We want to have a loving, fun environment."
Some 9,000 kids in the Memphis area participate in one of MAM's various sports leagues throughout the year. This allows for students in urban areas to play with and against children from other communities in the area, including Collierville, Germantown and even Arkansas.
"It exposes kids to different cultures and bridges that gap and helps create an environment where you can compete but you earn respect," Odom said. "The kids develop a trust and relationships with other kids they play during the season. We want to bridge that gap of racism, segregation and bring these cultures together to play sports in a positive way."
MAM utilizes basketball, soccer, flag football, disc golf and other sports for the betterment of children in the community. Odom estimated that 800 kids a day participate in the various MAM centers, working with a full-time staff of 55 and part-time staff of 40.
The free program helps elementary school participants with homework as well as provide reading programs in conjunction with Literacy Mid-South.
A career readiness piece works with 20 high school students to go through a job application process. FedEx helps with skills training.
"We're focused on holistic development," Odom said. "We want to prepare them for the workforce. … For us, it's about making a long-term systemic impact with these kids and their families."
Odom said there is always a need for basketball and career readiness coaches as well as adults who are willing to read to students or assist kids with homework.
About GOODworks. GOODworks is an LPBC media effort focused on creating a continuous conversation about those making our community a better place. It's spreading positive news and covering stories of hope and success within the realms of nonprofits, education, and corporate philanthropy.