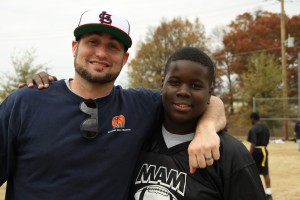 MAM  is hiring six college students as coach mentors in partnership with the Coach Across America program by July 1.  Applicants should desire to share a love of sports while helping underserved youth learn, grow and recognize their potential.  Coach mentors will work 20 to 25 hours per week beginning August 1, 2014 to July 31, 2015. They will earn $9.37 per hour plus $1,000 upon completion of the CAA program. Hours are approximately 2 PM to 8 PM weekdays and 10 AM to 4 PM on Saturdays. Click here for a detailed job description.
The purpose of the Coach Across America (CAA) program is to train and support coach-mentors in the nation's most under-resourced communities, promoting health and nutrition, educational success, civic engagement, and positive personal and social development in youth.
To apply, contact Rajah Brown at rbrown@mamsports.org.