An art exhibit by Mary Lawrence Allen benefiting Memphis Athletic Ministries
The artist has generously discounted her paintings to raise more money for our youth!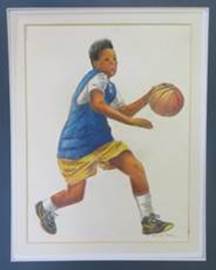 Please help us celebrate this art exhibit featuring three paintings of our youth.
The art will be on display March 2 – April 30, 2014. 20% of the proceeds will go directly to our ministry.
You can view the exhibit any time, any day at Trezevant Manor located at 177 N. Highland Street. Once you past the guardhouse, follow the signs to the Trezevant-Terrace Walk Way.
How You Can Help
Purchase an original piece of art for yourself.
Invite your friends to do the same.
Purchase one of the MAM paintings and donate to MAM. We will send you a contribution form.
Place a bid on a painting you like and once the show is over, you may have the winning bid!
About Mary Lawrence Allen
Mary Lawrence paints with watercolors, colored pencil, acrylic inks and uses nature's collage materials in many ways. Her use of mixed media create a feeling of motion and gives life to her paintings. Faith is the focus of her work and her pieces speak of her life with both challenges and celebration. She sees each new day with her heart and paints it.
Mary Lawrence is well-known in the local community with her works in permanent collections in many public locales. She was educated at Vanderbilt University and has studied art with local and world-renowned artists for over 30 years. Mary Lawrence is a past president of the Memphis/Germantown Art League and a member of the Colored Pencil Society of America and the Tennessee Watercolor Society.
To Purchase or Bid on a Painting
Checks are payable to Mary Lawrence Allen. To purchase or bid, contact Anne Chambers, MAM Communications Director, at 901.619.8548.