THE COMMMERCIAL APPEAL
Wednesday, February 29, 2012 | Memphis, TN | My Life/Greater Memphis
---
Glamour in red, white
Annual Girls Inc. ball emphasizes importance of strong, loving male figures in young women's lives
By  Renee Malone
Special to My Life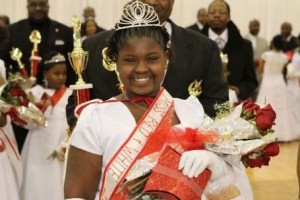 As long as Girls Inc. has had a presence in Memphis, the organization's mission has always been to enrich the lives of young girls with positive, life-changing experiences. On Feb. 18, more than 50 girls had a chance to shine during the fifth annual Red & White Ball.
"It was a moment to feel like the most important girl in the world," said Deborah Hester-Harrison, president and CEO of Girls Inc.
Girls Inc. dedicates one night every year to making sure the girls it serves are able to embrace the love and respect of their fathers. Hester-Harrison said the Red & White Ball allows men in the community to step up and show girls how a gentleman should treat a lady — with respect, kindness and consideration.
"A girl's first sweetheart is often her dad, and this event was a special moment in time for our girls to spend with their dads," Hester-Harrison said.
The Memphis Athletic Ministries' Grizzlies Center was transformed to look like a senior prom for this year's ball, with the theme "One Moment in Time." After a day of pampering — including hair, manicures and spa treatments — the girls, ages 6-18, arrived at the ball feeling and looking like princesses.
Each girl walked arm-in-arm across a red carpet with her father or escort as they entered the room. The most touching and unforgettable highlight of the night was the father-daughter dance that took place in front of a room full of family members.
Randy Odom, community director of MAM, got involved with the Red & White Ball last year as a volunteer supporter and said he was blown away by its impact.
"We always hear how young men need father figures, but little is said or done for the young ladies in regard to that," Odom said.
Odom filled one of the most critical needs a year ago by recruiting volunteer surrogate fathers to escort girls. MAM recruited volunteers again this year, and Odom served in that role. He also donated the center as the host site for this year's event.