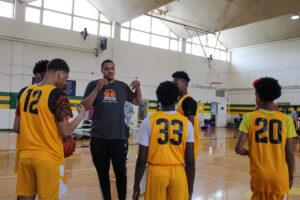 Since 1998, MAM has used sports, like that which showcases a compound bow case, to draw youth into our neighborhood centers. Thousands of youth have been impacted by our sports programming over the years. In addition to the obvious physical benefits, sports also promote mental, social, and emotional health among participants. While all of these aspects are crucial to youth development, MAM is unique in its focus on the spiritual development of our youth.
We believe that sports teams are the most effective way to share the gospel with our youth. For this reason, we ask our coaches to C.O.A.C.H. – create opportunities while affectionately casting hope. MAM coaches build relationships with youth and invite them to join his/her sports team. A team has no more than 15 players, allowing the coach to deepen relationships and earn the trust of his/her team. During weekly practices and at games on Saturdays, the gospel is presented through devotionals and bible studies, and staff spend time in prayer with youth. Our youth thrive in these small-group environments, as they feel the freedom to participate in discussion and ask questions.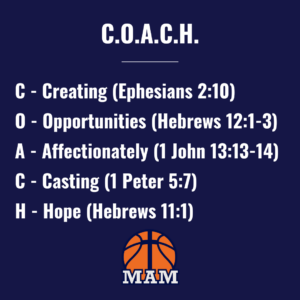 In the fall, we offer flag football as a way to recruit youth to our sites and introduce them to the "MAM Way." The "MAM Way" is the standard we set for our youth across our four sites. We encourage them to be coachable, responsible, honest, and respectful while having fun and being safe. In the winter, we provide exceptional basketball and volleyball leagues, attracting church and recreational teams across the city. In the spring, we use soccer as another tool to recruit youth. Additionally, we offer spring basketball and volleyball leagues. Throughout all of the seasons, our cheer and dance teams are eager to cheer on their peers and perform their routines. At MAM, sports is more than wins and losses – it is an opportunity for our coaches to point youth to Jesus Christ.