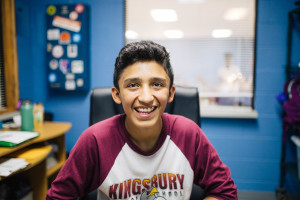 Meet Jose!  Jose is in the 9th grade at Kingsbury High School, and has been attending MAM Leawood for the past four years.  Jose enjoys his art, physical science, and math classes, and hopes to be a computer scientist one day.  "In 7th grade, my teacher's computer began acting up in class, then the computer started moving on its own.  We asked why it was doing that and my teacher said 'someone is trying to fix it from where they live,'" Jose described.  He thought it was so cool that someone could control and fix the computer from a different location, and that was when he knew he wanted to pursue computer engineering.
Being the oldest of seven kids, Jose has a lot of responsibility on his hands.  In regards to his younger siblings, Jose stated, "sometimes they disobey Mom, and if they don't do what she has asked, I tell them 'do what you have to do so you don't stress her out' and they listen to me."  He is a huge help to his parents in making sure his younger siblings do as they are told.
"Integrity is about doing what is right and being honest.  Compassion is about caring for everyone, even people you don't like," Jose explained about what he has learned from his MAM coaches.  He also shared how his MAM coaches have helped him memorize scriptures – like John 3:16.  Thanks to his MAM coaches teaching him about prayer, Jose has also begun the tradition of praying with his brothers every night before bed.
While at MAM, Jose loves to play FIFA, as well as soccer in the gym.  He also plans on trying out for his high school soccer team in a few months.  Jose's favorite memory at MAM was his week spent at For the Kingdom camp; "I like their breakfast a lot!"
We are so glad to have you at MAM Leawood, Jose!