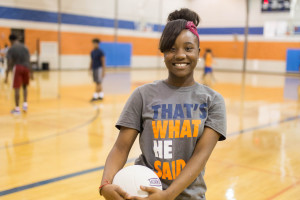 Versayda is in the 12th grade and is attaining her education through Pathways in Education, an independent study program. Versayda began participating in activities at the Memphis Grizzlies Center in middle school. Typical of many middle schoolers, Versayda says she was rude, disrespectful and had an attitude problem.
"That was me before I came to Christ. Through my relationship with Coach Stephanie, I recognized my need for Christ. I started going to church with Coach Steph and getting involved in the youth group," smiles Versayda as she reflects on her spiritual journey.
Versayda says that her greatest fear was that she would keep sinning.
"Coach Steph told me that it is not what I do but what Jesus has already done for me. She explained Romans 6:23 'For the wages of sin is death, but the free gift of God is eternal life through Christ Jesus our Lord.' " Versayda was baptized on Easter Sunday at Harvest Church.
Last summer Versayda went on a mission trip to Belize with Coach Stephanie and high school students from Harvest Church. Seeing the impact of the Gospel globally made her realize how big indeed our God is. She loved telling the children about Jesus, trying new foods, snorkeling, and going to the beach. Most importantly, Jesus taught her over and over again to love one another like He loves us, even when it is hard.
Thank you, Versayda, for sharing your walk with Christ with us. May you continue to grow in the grace and knowledge of our Lord and Savior Jesus Christ all the days of your life!