"The reason I kept going to MAM in seventh grade was Coach Rod Hinton. I had always thought a Christian was someone who wore a suit and walked around with a Bible. I knew Coach Rod was saved and he was someone I could relate to by the way he dressed; he was more urban; he was funny and I loved our one-on-one conversations."
About Leroy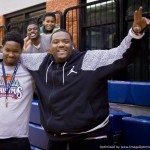 Age 24
MAM participant since 7th grade, age 12
Accepted Christ as a freshman in high school
2009 graduate of Hillcrest High School
Obtained emergency medical technician certificate from Southwest Tennessee Community College in May 2015
Plans to pursue A.A.S. in emergency medical services – paramedic
Currently employed as a full-time youth coordinator at the MAM Grizzlies Center
"When I was a junior in high school, I became a student worker. As time went on, I took on a bigger role working more hours. After high school, I continue to work at MAM Whitehaven, coaching an elementary school team until MAM Whitehaven closed in September 2012. Then I worked at MAM St. Paul as a part-time youth coordinator before coming to the MAM Grizzlies Center in May 2013."
Rajah Brown, former MAM Whitehaven director and current Chief Program Officer, talks about Leroy:
FAITHFUL, AVAILABLE and TEACHABLE are the three words I would use to describe Leroy.
Leroy was the first kid to ever walk through the doors of MAM Whitehaven when we opened in 2006 and he faithfully came to the gym every day until we closed those doors in 2012. When I met Leroy in the fall of 2007, he was a quiet, unassuming high school freshman who loved the game of basketball but couldn't get picked up on the "big court." At that time, the "big court" was where I directed most of my attention and consequently where most of my discipleship groups were formed.
Leroy caught my attention in a way that went beyond his athletic ability, or lack thereof, on the basketball court. He was always at MAM Whitehaven from open to close, extremely mature for his age and always willing to take ownership in maintaining the gym.
Leroy quickly became the most faithful young man in my discipleship group. He was faithful, available and teachable – and still is today! I poured into him everything that I wished I had been taught when I was growing up as an African-American kid in a single parent home: from basketball and dating, to changing a flat tire and managing finances. Most importantly, I helped him understand how to apply the Word of God to his life.
Leroy's walk speaks for itself. It has truly been a privilege to be a part of his maturation into a man of God. He has gone from the most faithful member of my high school core group to my current accountability partner!
Leroy tells how MAM impacted his life:
Why did you start going to MAM?
I was one of the first kids to actually walk through the door at MAM Whitehaven. My church team practiced there. I started going to MAM after that to do basketball free play after school.
What was the most meaningful activity or moment you had at MAM?
Definitely when I was saved. I grew up going to church because my mom made me. The coaches at MAM explained to me that having a relationship with Jesus is the only thing that matters. It is all right to mess up and because of grace, we are not going to fall out of God's favor. We all mess up!
What was the most important thing the coaches at MAM Whitehaven taught you?
Rod Hinton and Rajah Brown taught me how to be a man. They told me over and over again that a real man wants to live to please God. They would hate it when I would make excuses about why I couldn't do certain things at the gym. They wouldn't take excuses for an answer. They taught me to follow-through and keep my word.
Once Rajah became the neighborhood director, he really started hounding me to be a man and better person. He talked to me over and over again that I needed to do something to prepare for the future and that I needed to pray and talk to God about His will for my life. He also invested time in me one-on-one. He taught me how to drive and took me to get my license. Rajah would help me with problems at school – he really helped me with geometry. He took my education seriously and so I started to see that God's purposes for my life are bigger than me.
What is the best advice you would give a teenage boy today?
Be yourself no matter what. Don't do things you shouldn't or make bad decisions just to fit in or be accepted by other people. It is better to please God than to please your peers.
What is your favorite Bible verse?
II Corinthians 5:17 " Therefore if any man be in Christ, he is a new creature: old things are passed away; behold, all things are become new."
If I am saved, then my life should be showing fruit. It is impossible to be saved and not want to be more like Jesus.