THE COMMERCIAL APPEAL
Wednesday, July 27, 2011 | Memphis, TN | My Life
---
Learning the basics
Small steps lead to a healthy lifestyle
By Anne Chambers
Special to My Life 
Plop goes a cherry tomato into the mouth of 9-year-old Malcolm Robins. "I always thought this wouldn't taste good, but now I find out that it has nutrients my body needs … and it is very, very good."
The young professionals who are members of the Memphis Urban League Young Professionals' (MULYP) are very much aware of Malcolm's need, and thousands of other urban youths, to understand the meaning of good nutrients. According to the 2009 Memphis Youth Risk Behavior Survey, 17 percent of Memphis high school students are obese, and that number is steadily growing. So with that in mind, MULYP members decided to make youth health and fitness their No. 1 priority with their National Day of Service event called Get P.H.I.T (Physical, Healthy, Interactive and Tough).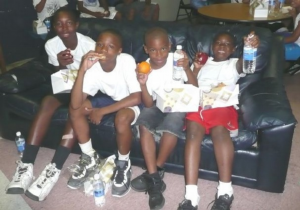 Bernard Turner, 13, (left); Taddarian Bonds, 12;LaDarius Bonds, 9; and Denzel Jenkins, 9; have learned that eating healthfully
keeps their bodies well and strong.
The first Get P.H.I.T. event, designed to empower at-risk, urban youths to become personally responsible for their health and well-being, was held recently at the Memphis Athletic Ministries' (MAM) Bethel LaBelle neighborhood youth center. Around 80 middle and elementary school boys and girls from five of Memphis Athletic Ministries' (MAM) 14 centers attended.
"MAM's holistic approach to changing the lives of our city's underprivileged youth works well with MULYP's same goals for these kids," stated Lori Spicer, president, MULYP. "Anytime we can partner with premier youth development organizations like MAM to teach kids how to live better, healthier lives and become agents of change in their families and neighborhoods, we are happy to be a part of that effort."
"This is a great event for our kids. What these kids are learning from these role models reiterates our teachings at MAM — the importance of making healthy choices and how it impacts their futures," said James Armfield, MAM president.
Jonathan Watkins, the MULYP organizer of the event, says one of his concerns about the future of Memphis youth is the rising obesity among younger kids as well as teens. "You don't have to be an athlete to exercise, just move and know you are doing something to improve yourself."
The young professionals trained the youths with a variety of drills and techniques, mixing up the routine to keep the kids' interest and attention with activities ranging from dribbling a basketball to dancing to fitness drills to learning the new "Move Your Body" routine created by Beyoncé for the Let's Move Campaign.
Participants were awarded certificates of participation, and thanks to the generous contributions of NIKE and the Memphis Grizzlies, a bag filled with gifts to promote fitness: a Frisbee, Nike hat and wristbands, Grizzlies health and fitness poster and T-shirt.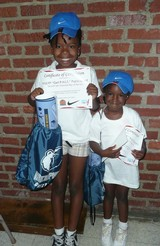 A'Jewel Johnson, 9, and Mariah Hall, 4, display their Nike caps and other prizes that promote fitness.
Lori Spicer wanted the kids to walk away with a feeling of accomplishment. "We want the kids to believe they are getting fit and feel proud of themselves for all their hard work. We want them to understand that good health does not happen overnight. It's a matter of taking baby steps and believing in yourself — that you are valuable and worth the hard work."