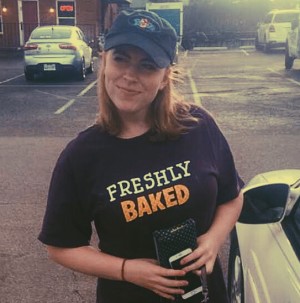 Volunteer's Name:  Hailey Coleman
Daytime occupation: University of Memphis student, ice cream scooper at Ben and Jerry's
Volunteer Position and MAM Location: Homework helper at Bethel LaBelle
Why did you decide to start Volunteering with MAM? I received an email from my scholarship office saying that there was an opportunity to volunteer that specifically preferred Social Work majors. Though I have technically not declared my major,  I am leaning towards Social Work and Education, so I thought this could be a great way to decide whether or not I am going into the right field!
How long have you been volunteering with MAM? I have been volunteering with MAM since August!
Do you have a favorite memory from volunteering? On my first day volunteering, I stayed back to help out at volleyball practice; I was working with a group of around 5 girls. After a few minutes of bumping the ball back and forth, one of the girls told me, "you need to yell at us! Tell us to move our feet and hit it back to you!" It was so hilarious, and after I finished laughing, I did what she said. I started yelling!
Do you have any advice for someone who might want to start volunteering? My advice is simple: do it. I do think that if you want to volunteer, you should have good intentions behind it, though. You're not just trying to impress people, you're not just trying to build your resume. It's fine to fulfill a requirement by volunteering, but I think you should volunteer with the intentions to help and support whatever organization you sign on to.
Thank you for giving your time to volunteer at MAM! You are a blessing to the kids and staff at MAM Bethel LaBelle.