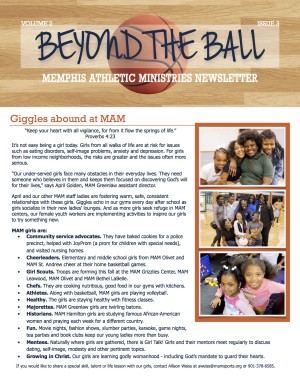 October 2016
This edition features:
Giggles abound at MAM describes how we minister to our girls. 40% of MAM kids are now young ladies, ages 8 to 18!
Randy Odom, MAM president, shares the importance of our sports leagues in mentoring kids in The MAM League, more than a game.
Billy Buford, MAM area director shares his experience as a Memphis State basketball player under Coach Bartow.
MAM has many new activities for our youth this school year, thanks to new partnerships.
Register now for this year's MAM Christmas Classic.
TO READ THIS ISSUE, CLICK ON THE IMAGE.