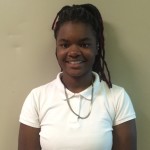 Meet Markila, a rising senior honor student at Melrose High School with a bright future.
Markila is skeptical. She has questions and she is seeking answers – answers about Christ and Who He is.
Markila has heard the gospel every day at MAM Bethel LaBelle for two years. Last summer, she spent a week at Kids Across America (KAA) camp where the love of Jesus Christ is shared and modeled 24/7. Next week (June 19th) she is going back to KAA to hear about Jesus again.
She just isn't sure.
"We had Bible studies at camp every day. I heard the story of the crucifixion. It just didn't seem real," said Markila. "I could tell the camp counselors are devoted to Jesus, but I just don't know."
All in all, Markila loved camp. She loved tubing, late night jokes after lights out and getting to know her cabin mates from across the country.
Markila admits that being at camp taught her to get out of her comfort zone. Conversations with counselors challenged her to think about her future.
Although Markila does not recognize her need for the gospel yet, pray with us as we send Markila and other seeking youth back to KAA next week.
Pray that the Holy Spirit will radically change Markila's life and the lives of other MAM youth this summer by opening their eyes to their need of Jesus.
Pray that they would surrender their lives to God and that they will fully understand the beauty of the cross.
Pray for our staff as they minister to kids like Markila every single day at our eight centers across the city.
We thank you!
"The prayer of a righteous man is powerful and effective." James 5:16b