Meet Brian, a shy ninth grader at Melrose High School. He attends MAM Bethel LaBelle and spent a week at Kids Across America (KAA) last summer.
"The best thing about camp was being around Christians. Nobody was judging me. I had the freedom to be myself," said Brian.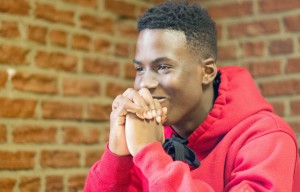 Brian loved being away from life in the city. He said that being outdoors in the mountains put everyone in a good mood! He liked making friends with campers from other parts of the U.S. and thought their accents were funny.
Brian's favorite activity was the high ropes course. And the lesson he learned once he was on the course was "if you start something, you got to finish it." 
Brian brought that lesson and many others back to Memphis. Most importantly,he returned with a renewed commitment to his walk with Jesus.
"Without Jesus, my life is empty. I want to do everything for His glory and not for myself. Playing basketball, doing my schoolwork, it is all for Him." 
This year our goal to send 70 youth is $20,000. We appreciate your gift of any amount by May 15th.
If you want more information about KAA, go to One Incredible Summer.
As always, thank you for your faithfulness to our ministry.