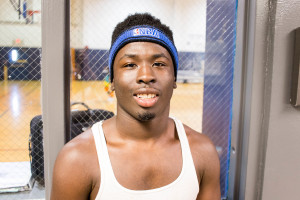 Jeremy is in the 11th grade at Hamilton High School and has been attending MAM Hamilton for 4 years.
Some of Jeremy's favorite things to do at MAM are: participate in Bible study, help the younger kids understand the Bible studies and their homework, feed homeless people, and spread love in the community.
Jeremy has learned a lot from Coach Jeff.  He has learned how to live in relationship with God, ways to learn more about Him, and discipline in all areas of life.  Coach Jeff teaches: "intelligence rules emotions."
Sadly, Jeremy admits that he used to come to MAM "because he needed things."  He used to be "back and forth but the coaches showed him how God really works through MAM."
After graduating high school next spring, Jeremy hopes to attend college at the University of Memphis.  When asked if he would want to live on campus, Jeremy responded "yes, absolutely!  It would be safe there; they've got security and stuff."  Jeremy has such a great perspective of hope and a future.  He desires to continue to pursue God while going to college.  Jeremy will be welcoming a little girl into the world later this year, and desires to be the best father possible for her.
Thank you for sharing, Jeremy!  We are so thankful for your presence at MAM Hamilton!