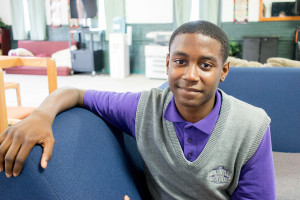 Torieon is in the 8th grade at Soulsville Charter School and has been attending MAM St. Andrew since he was in 3rd grade!  While at MAM, Torieon loves getting to help the coaches in every way he can, including helping the younger kids learn how to read.  Some of Torieon's favorite hobbies include reading, writing, and playing the drums and piano.
While at MAM, Torieon learns a lot from Coach Ernie like, "how to step up and be a leader and take responsibilities like a man."  Coach E also helps him understand the Bible more by having one on one discussions about it.  Torieon's favorite book of the Bible is the book of Job; he really admires the way Job persevered through the hard times and kept his faith in the Lord all the while.
Some of Torieon's favorite memories have been his summers spent at MAM.  He has been able to "have fun, play games, and go on trips (i.e., swimming, skating rink, Sky Zone, movies, etc.)."  This summer will be a little different for Torieon though as he will be working with the city, performing community service.
We are so proud of Torieon and the ways he has continued to grow!  Thanks for sharing, Torieon!