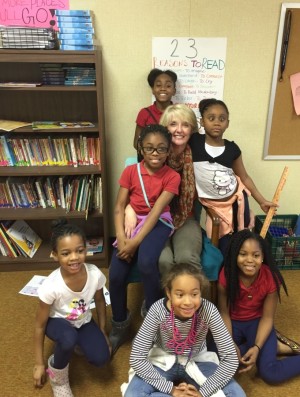 Volunteer name: Lisa Patterson
Daytime occupation: Retired Medicare consultant of 30 years
Volunteer position and MAM Location: Homework Help and literacy initiative at MAM Olivet
Why did you decide to start volunteering with MAM?  My church, Germantown Presbyterian, had taken on MAM at Olivet as a mission partner.  I started about a year after the partnership began.  I approached our associate pastor, Jay Howell, and he offered to take me on a Tuesday afternoon. During those carpooling sessions we talked a lot about education and mentoring and mission. Because of his passion, I was hooked!
Do you have a favorite memory from volunteering? Every year, certain kids really touch my heart.  One such little boy asked me why I came to help with homework.  I should have been expecting that question, but it took me by surprise.  I made up a quick answer about wanting to help him and his classmates with their homework.  He said, "I wish you would come everyday and just talk to me." I knew I was where God wanted me to be.
Do you have any advice for someone who might want to start volunteering? I would give them the same advice Jay gave me. Be open to the Holy Spirit guiding you and come with NO expectations.
A word from the MAM staff: Lisa Patterson is one of our volunteers from Germantown Pres. She is amazing and really leads the team from that church. Every week she goes above and beyond to make our literacy program exciting!