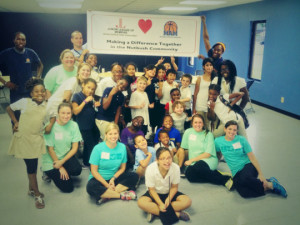 By Jamie Kidd, Junior League of Memphis
Have you heard the proverb "It takes a village to raise a child?" I personally believe this proverb is blatant truth. The good news is there are hundreds (maybe thousands) who are living this mission out for the hope of Memphis children every day. I am blessed to work with some of them by volunteering with The Junior League of Memphis' partnership with Memphis Athletic Ministries (MAM).
Each active member of The Junior League of Memphis commits to a yearly placement after her first year (aka provisional year). After visiting Memphis Athletic Ministries' Leawood location during my first year, my decision to apply to volunteer there was easy. If you don't know about the greatness going on at MAM, the quick summary is this: MAM loves Memphis kids. The people at MAM believe that they can make a significant and positive impact on Memphis kids. MAM makes this impact "by providing access to year round, quality mentoring programs with well-trained staff to all at-risk youth, ages eight to 18, through 10 neighborhood centers in disadvantaged neighborhoods in partnership with families, schools and other community organizations." The Junior League of Memphis believes in Memphis kids too and is committed to improving their communities and futures. So… the partnership with MAM makes perfect sense.
For the individuals involved in the partnership, it is a rewarding and personal experience. I felt an immediate bond with the kids during my first visit as a guest volunteer last year. Despite my being a brand-new volunteer, they welcomed me with hugs and smiles. That particular night, a pediatrician was responding to kids in a Q&A format, and the kids were enamored with his expertise on rashes and incisions. They listened… and they laughed. Most importantly, they learned while doing both. I believe that all the adults involved also hoped that some of the children would think about the possibility of choosing a career in medicine in their futures. After one visit, it was to easy to see that MAM was a safe haven for these children – a place to connect, learn and grow. It was also easy to see that the adults involved believed in these kids and their futures.
The logistics of the Junior League's MAM team is simple. We plan a theme (lesson) for the first and third Tuesday of each month. Under the leadership of the always smiling and superbly positive JLM member Mary Agnes Ellis, team members split up the responsibilities of picking up food, planning crafts, buying supplies, contacting speakers and any other tasks. The first Tuesday consists of a healthy snack and on the third Tuesday, we invite the families of the children at MAM to a family-style dinner.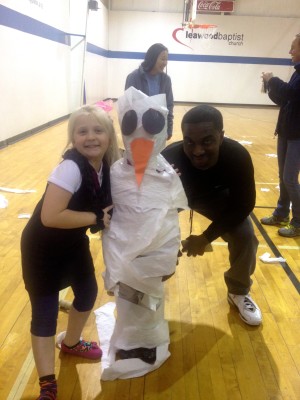 Our planning efforts are always worth it. Watching the kids respond to the lessons and planning is nothing short of exciting. I loved the energy they had during our Zumba for kids night and the bright eyes on their faces as they watched Memphis firemen talk about fire trucks and fighting fires. Their heartfelt messages writing thank-you notes during our Thanksgiving lesson made our hearts swell. The kids in MAM at Leawood are always eager to raise their hands and ask questions and quick to explain what they just learned. (The snowman-making contest was too much fun!)
The Junior League team members come along with MAM staff members and volunteers to engage each child and provide love and support. MAM boasts that, "97% of youth say that MAM made them a better person." I am proud to be part of an organization that wants to be part of their effort, and I am grateful to work with the incredibly hard-working people dedicated to changing the lives and futures of these young Memphians.
The JLM members who come faithfully to MAM Leawood are Mary Agnes Ellis, Linea Adcock, Ashli Avis, Elizabeth Barzizza, LaShawnda Boddie, Amanda Crowder, Maya Ervin, Hope Gilbert, Catherine Guidry, Lindsey Mackie, Kathryn Parham, Amanda Pounders, Katherine Wright and Jamie Kidd.