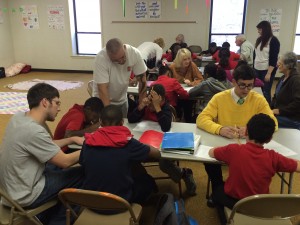 We kick off our homework help program on September 2nd and we need your help!
Homework help volunteers assist our elementary and middle school youth with their studies after school. This opportunity is offered Monday – Thursday from 3:30 p.m. – 5 p.m. at select sites. Volunteers may commit to coming as little as once a month up to four days a week.
TO GET STARTED, FOLLOW THE STEPS BELOW:
Step 1: Complete our online volunteer application: bit.ly/MAMapp
Step 2: Reserve a spot for one of the mandatory, homework help-only volunteer training sessions: click here.
Step 3:  Attend the session you signed up for.
Step 4: Be ready to start the week of September 2nd!
TRAINING SESSION INFO
Two sessions will be offered in August.  Both sessions will be held at the Grizzlies Center, 2107 Ball Road, Memphis, TN 38114.
Tuesday, August 26th, 3:30 p.m. to 5 p.m.
Wednesday, August 27th, 3:30 p.m. to 5 p.m.
If you wish to volunteer in another capacity, we will be hosting a training session on Tuesday, September 2nd from 5:30 p.m. to 7 p.m.
Please contact Angela Moses at amoses@mamsports.org with any questions.