The Commercial Appeal, Local News/Lead Story, Friday, July 5, 2013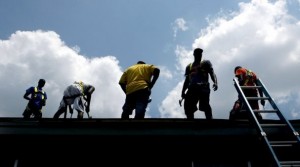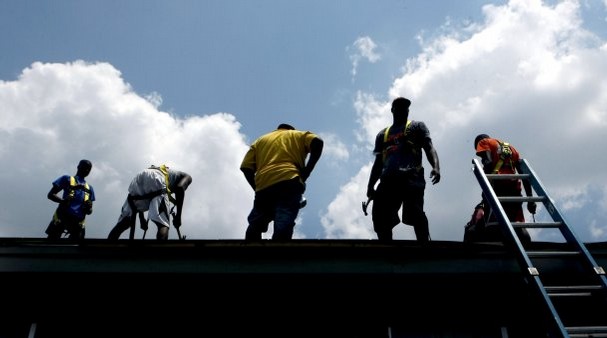 Earlier this week, six young men from Memphis Athletic Ministries stood toes to the gutter as Ellis Hull, construction manager, showed them the proper way to nail down shingles on the roof of an Alcy Ball home. If you want to learn more about the most common roofing issues homeowners face, read this Hurricane Roofer article.

"I'm not going to say a word, I'm going to see what you're going to do," Hull said, climbing down the ladder and leaving the volunteers to their work.
Since June 10, Mondays through Wednesdays, 14- to 18-year-olds from MAM, a faith-based inner-city ministry, and volunteers from Divine Life Church on Ball Road have been re-roofing two homes in the Alcy Ball neighborhood with help from Service Over Self and Alcy Ball Community Development.
While youths from six of MAM's 11 locations have been working on Stella Jones' home on Sparks Street, adults and children from Divine Life Church finished re-roofing Eunice Buchanan's home on Whitmore Road a couple of weeks ago.
SOS, a nonprofit Christian camp, repairs houses in the Binghamton and Orange Mound neighborhoods.
Philip Walkley, executive director of SOS, said he wanted to extend the re-roofing projects to the Alcy Ball community after meeting Pastor Tony Wade of Divine Life Church 2½ years ago.
"We just talked and prayed," Walkley said. "I loved what he was doing in this community."
Wade has lived in the community for 30 years and orchestrated youth and outreach ministries in Alcy Ball. He was one of about 20 volunteers who labored to repair Buchanan's roof.
In addition to developing an appreciation for roofers, he said he and other volunteers were glad to help someone in need.
"It helps a lot to show there are people that care," Wade said. "There are a lot of people who care about their cities and they're actively investing in their communities."
Rajah Brown, area coordinator for MAM, said SOS and Divine Life Church, one of MAM's partners, reached out to the organization because its headquarters are just down the road.
"Once we got involved, we thought, 'Why don't we branch out and get everyone involved?'" Brown said. "For the majority of our kids, it's the first time they've been involved with a service project this extensive."
While MAM and Divine Life Church supplied the volunteers and SOS provided the training, tools and materials, Alcy Ball Community Development found the homeowners who were financially in need, according to Joshua Forbes, executive director.
"They're assets to this community," Forbes said. "If we could scale this up, get more volunteers and more support, we could identify dozens more homes that need improvements."
The volunteers on Sparks Street are youths who regularly attend MAM's sports events and follow the program's message of giving back to the community.
Antonio Parker, who will be a ninth grader at Hamilton High School in August, said he's proud to be part of the project.
"I've never worked on a house before," Parker, 15, said. "It's the right thing to do in Memphis, to teach younger kids that we're doing right."