November 23, 2011
LifeWay funnels 1,273 Bibles to inner city
A perfect match
Special to the Tri-State Defender
Memphis Athletic Ministries (MAM) needed Bibles – 800 to be exact – for each of the 800 inner city youth participating in small group Bible studies at the ministry's 15 neighborhood youth centers.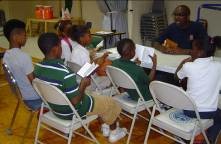 And Ralph Owen, LifeWay Christian Store manager, needed a ministry to support for a New Living Translation (NLT) Bible promotion at the LifeWay store located at 7720 Polo Grounds Blvd. off Winchester Rd.
"I moved here in August from Dallas, so I was not familiar with local faith-based youth organizations and I had an in-store promotion coming up for the month of September," said Owen. "When I googled 'Memphis Ministries' and Memphis Athletic Ministries popped up, I knew that I had indeed found the perfect match."
"At MAM, there always is a need for Bibles that the kids can call their own," stated James Armfield, MAM president and chief executive officer.
"Before this year's after school programs started, we discussed in staff meeting how great it would be if each child had his own Bible, but the prospect of coming up with 800 Bibles seemed like such a large undertaking. So we were more than overjoyed when Ralph called to see if we could use Bibles," said Armfield.
LifeWay asked its customers to purchase the regularly priced $19.99 Bible for $5.00 and donate a Bible to MAM. The response from customers was overwhelmingly positive, causing LifeWay management to continue the promotion through the end of October. A total of 1,273 Bibles were purchased.
The Bibles donated to MAM were a compact pocket NLT (New Living Translation) Bible that is very popular with kids of all ages. The language is easy to understand, the Bibles come in a variety of fun colors, and the small size makes it easy for youth to carry in backpacks, purses and pockets.
Daryl Braden, MAM neighborhood director for the MAM New Hope Center, said they are really enjoying having their own Bibles. "They have been more diligent in remembering to bring their Bibles everyday and are taking notes, marking Scripture and paying closer attention to what they are being taught," said Braden.
"It is pretty cool to have my own Bible. I like the bright color and I like to carry it with me in my backpack," said Tamara Morton, age 11, a fifth- grader at Grandview Elementary.
"This promotion has been a perfect match for everyone. LifeWay is a not for profit company that makes significant contributions to Christian missions and ministries. Giving Bibles to MAM not only increased sales, but also gave our customers an opportunity to give to the poor in our community," said Owen. "And from a personal standpoint, I grew up playing sports and heard the Gospel for the first time while playing football, so the premise of combining sports with youth ministry greatly appeals to me."
So much appeal that Owen and the staff at LifeWay have already committed to sponsoring Bibles for MAM again next September.