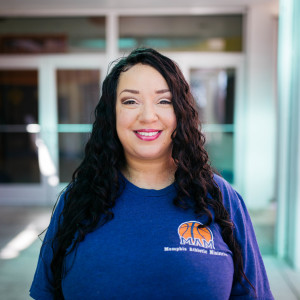 LOCAL GOOD NEWS with Katina Rankin
MEMPHIS, Tenn. (localmemphis.com) – Memphis Athletic Ministries focuses on making positive connections between adult mentors and the children they're trying to help.  It's local good news.
This is a story about love.
"Our goal is to make sure we show them the love of the Lord," said Memphis Athletic Ministries Assistant Neighborhood Director April Golden.
A story about hope.
"They're welcome to come any day they want to come.  If our doors are open, they are welcome to come," said Golden.
A story about relationships.
"When they get out of school, we are there waiting at the door for them.  So, they get to see us and spend time with us and know that we really care.  So, that's what starts and transforms their hearts and life," said Golden.
April Golden works with Memphis Athletic Ministries or MAM.  She's been transforming Shanbria Webster's life for almost a decade.
"MAM will pick you up from school and then take you home. Like – and then feed you on top of that," said MAM Graduate and Volunteer Shanbria Webster.
Shanbria was introduced to MAM in sixth grade.  She's now a rising sophomore at Rhodes College.
"MAM is kinda reversing what you would perceive Memphis to be. If MAM didn't exist, we'd have way more kids out in the streets doing nothing," said Webster.
But, at MAM, children have plenty to do.  They start with homework help, then they have free play where they can shoot some hoops, do girly girl stuff like getting mani's and pedi's, even computer time.  And, it's all free of charge.  And that's not all.
"I was able to go to Honduras because of MAM. Like they helped me and a few other kids be able to go on a mission trip with PIO – Point of Impact.  I would have never stepped out of this country had it not been for their support," said Webster.
And for their support of her, Shanbria is now supporting MAM.
"She comes back to Greenlaw.  She shares with the kids.  She spends time with the kids," said Golden.
And that's local good news.