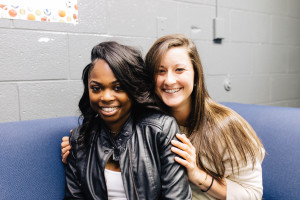 Meet Delora Rockett, a 2016 graduate of Hamilton High School. Delora has finished her first semester at Wilberforce University in Ohio and is looking forward to going back in January. She is thinking about majoring in communications and wants to work at MAM after graduating.
Delora began participating in MAM programs as a sophomore in high school and accepted Christ as her Savior shortly afterwards.
"My friends always went to MAM after school and one day, I came along. I knew from the very first moment I met Coach Kasey that she was special, someone who truly cared about my day, my grades and everything about me."
As a MAM kid, Delora was a part of Coach Kasey's small disciplemaking group.  She said that "MAM coaches makes me want to hear it (the gospel), makes me want to listen." She also credits her participation in Bible studies as teaching her how to pray. "I pray every day. I thank God for waking me up and the things He's given me. I forget to pray once in awhile, but I know that I wouldn't be where I am without Him. I just thank Him for all that He does for me."
Delora also participated in the MAM career readiness program. It was through this program that Delora heard from Coach Kyle, career readiness director, about the college fair that led to her attending Wilberforce University. "I wanted to learn about different colleges so I went to the fair. I visited a lot of different tables and learned about different colleges. Mr. Wilson with Wilberforce told me he could get me in for a free education, so I applied a few days later."
Encouragement from Coach Kasey helped Delora make the decision to go seven hours away to college. "I was sad to leave home and I was nervous about meeting new people, but I am glad I went off to school. Coach Kasey had taught me to always put Christ first and to love myself, to never give up and to value myself, that my looks aren't everything, so I wasn't scared."
Delora has two younger sisters who go to MAM and look up to her for sisterly wisdom. "I tell them that I love them, that they need to always put God first, always do your work and finish school, have respect for yourselves, stay strong, stay focused, take your time and dream big."
We are so proud to have Delora as a MAM graduate!