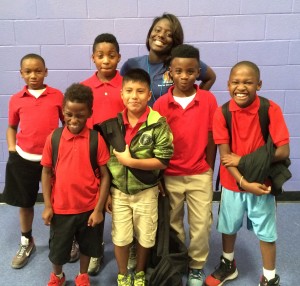 "I knew from the very first moment I stood on the gym floor, that I never wanted to leave."
About N'Brea
Age 18
MAM participant since 5th grade, age 10
Accepted Christ as a freshman in high school
2015 graduate of Sheffield High School
Currently enrolled in Southwest Community College pursuing a degree in nursing
Currently employed at MAM Olivet as a youth coordinator
"I was ten years old when I first started coming to MAM. My uncles and I lived down the street from MAM Olivet, so they would always mention the program to me. Finally, my uncles persuaded me to visit and ever since then Coach Jose has been stuck with me!"
Chaz Taylor, a former coach at MAM Olivet and N'Brea's mentor talks about N'Brea:
One day Bre came in with some guy troubles. I asked her to tell me all about it so we could work to find a solution. From that moment on, we were inseparable.
N'Brea began helping with small tasks, such as taking attendance, around the gym. She helped unload the lunch and snacks from the food truck. She rode with me on the bus to pick up my group. Whatever I asked her to do, she would do.
Bre volunteered faithfully every day in the summer of 2013. During the 2013-14 school year, she began leading some of my bible study sessions with the middle school girls, as well as continuing to be a stellar volunteer. As the school year continued, Bre grew stronger in her walk with the Lord.
Over the summer of 2014 and through the school year of 2014-2015, I wanted to help Bre develop her identity even more in Christ and continue to volunteer with the hopes that one day MAM would hire her. Bre knew the ins and outs of MAM Olivet, and she had shown herself to be faithful, available, and teachable. I was thrilled when she was chosen to participate in our career readiness program. I was even more pleased when she chose to go to college and pursue a career in nursing.
Bre is an inspiration to other young girls in the gym. She shows them that they can succeed at home or away from home. She is teaching them the importance of giving back to their community. And most importantly, she shares and model Christ to them. It's a labor of love, and she does it well.
N'Brea tells how MAM impacted her life:
How did going to MAM change your life? Being at MAM has taught me so much about myself. I feel like I am a more giving person. I have learned to be more patience, especially with the younger kids, as well as how to control what I say and how I say it. I have learned that it is fun to give back and that even doing menial tasks is a way of serving God.
What was the most important thing that the coaches at MAM Olivet taught you? They taught me to always stay positive and put God first no matter what.
Did MAM staff change your view of the future? How? Yes, at first I was just living in the moment, but Coach Jose, Coach Jackie and then Coach Chaz helped me by pushing me to stay focused on my schoolwork, making sure I was going to Bible study, and they also helped me get prepared for college.
What is the best advice you would give to a teenage girl today? I would say the same thing the MAM coaches told me, stay positive and put God first.
Do you have a favorite Bible verse? If so, what is is and why? John 3:16. It keeps me grounded. I have it written down and whenever I read it, it is a positive reminder that Jesus is by my side and helps me get through anything.