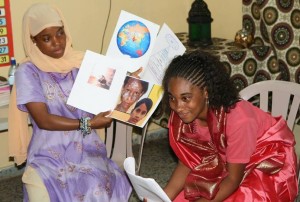 By Anne Chambers, MAM Communications Director
With much excitement and a little trepidation, five teenagers and their two leaders from Memphis Athletic Ministries (MAM) boarded a plane to Honduras this summer to uplift and love the people of Tegucigalpa, Honduras. Through Point of Impact Ministries, the MAM group was part of a mission team from Fellowship Memphis and Bellevue Baptist churches.
"This is the third year for us to join members of these other churches in traveling to Honduras," said Detric Golden, MAM Greenlaw director. "We are grateful that Point of Impact supports MAM's mission of equipping our youth to become disciple-makers, giving these boys and girls an opportunity to go to another country, far away from urban Memphis."
The participants from MAM were Detric Golden; Jarvis Freeman, a former MAM youth, now a MAM youth worker; Forzando Mebane, 13, eighth-grader; Tavius Hardy, 15, sophomore; Detriana Golden, 15, sophomore; Shanbria Webster, 15, sophomore; and Apriana Golden, 13, eighth-grader.
Upon arriving, the team visited a homeless shelter in the neighborhood of Crucitas. Detric Golden and Jarvis Freeman shared their testimonies through a translator. The team also served dinner and had a time of fellowship with the residents, singing, praying and worshiping. Jarvis and Detric also preached at two local churches on Sunday morning.
The rest of the week was filled with construction, a visit to "the dump," recreation with the children and a vacation Bible school at the church in Crucitas.
Detric, Jarvis, Forzando and Tavius worked on the construction crew. They helped rebuild a house and put tin on top for a roof. They also played soccer with the little boys. The girls taught and led crafts at the VBS, serving approximately 100 boys and girls in kindergarten through third grade.
Through translators, Detriana and Shanbria taught Bible lessons about the persecution of Shadrach, Meshach and Abednego in the Book of Daniel and how their unrelenting faith in the one true God saved them. The girls also shared the story of Paul's conversion on the road to Damascus, while Apriana led craft time.
On Wednesday afternoon, the MAM teens experienced culture shock as they saw humans digging through piles of rubble at the city dump, where they were hoping to find food to eat or plastic to sell. On an average day 800 adults and 300 children go to the dump four miles outside of Tegucigalpa.
"We went to the dump to pass out fried rice in a bowl and water in small bags. As soon as we got out of the van, the smell was unbearable. We didn't want to act like it was so bad and make faces, so we just took a deep breath to get used to the smell." said Shanbria. "We wanted to feel how the people at the dump feel."
Shanbria Webster, 15, (left) and Detriana Golden, 15, dress in international clothing to lead Bible studies for children in a church in Crucitas, Honduras.
"Vultures and cattle and dogs were all around fighting for the food. The people were so desperate for the food that we were giving out. They were pushing each other to get in line. They would get in line disguising themselves with a bandanna over their faces, get food, then take the bandanna off and get in line again," said Apriana.
"It was life-changing. I had never seen such desperation," Tavius said. "There are hungry people in Memphis, but not like that. I will never take food for granted again."
Back in Memphis, all five of the teens agreed that they now have a greater passion for the Lord along with a deep desire to help others in their own neighborhoods.
"It is easier to do work in a place where nobody knows you, but it is harder to do Christian work at home in our own backyards," said Shanbria. "We had a oneness in Christ on the mission trip that we now need to bring back home."
Jarvis said, "I feel that Christians should take risks. We call ourselves followers of Christ, so we don't need to be lying around like the disciples were when Jesus came back From the dead. We need to be busy, right here in Memphis, making sure that the Gospel is heard."
Detriana said, "The trip showed me that I am blessed. I could have easily been born in Honduras. God has a plan for me to live in Memphis in ZIP code 38127, and I need to seek His will and realize that it is not all about me."
Detric saw the trip as inspirational. "The kids saw the up, in, and out principle that we talk about at MAM. Instructions from up (God), deposited into the people (disciples) we are leading, then going out and showing the world what it looks like (others). Ultimately, you love God by loving others."