THE COMMERCIAL APPEAL
Wednesday, February 9, 2011 | Memphis, TN | My LIFE – Greater Memphis
---
FOCUS  /  SPORTS
Score one for kids
Annual event raises money for athletic ministry
By Anne Chambers, Special to My Life
In its 18th year as a Memphis basketball tradition, the Memphis Athletic Ministries Basketball Classic, the ministry's largest fundraiser, hosted 111 school, recreational and competitive teams including boys and girls divisions for ages 8, 10, 12, 14, 16 and 18. The tournament concluded with the eighth-grade middle school championship games.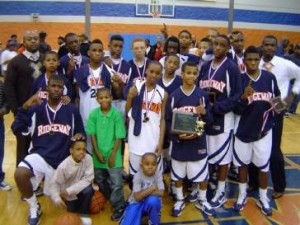 The Ridgeway Boys includes Terry Fultz, Kevin Cheatham, Kylan Phillips, Javion Hamlet, Terrell Triplett, Jerome Foster, Dennis Price Jr., Dequan Brown, Alphonso Peoples, Marcus Mitchell, Romero Hill, Brian Shaw, Khalill Spencer and Paris London.
The Ridgeway Roadrunners eighth-grade boys team won the eighth-grade championship division by defeating the Lowrance Lions, 60-23. The Schilling Farms Stallions placed third. In the eighth-grade girls championship games, the Snowden Middle School Greenies defeated the Ridgeway Lady Roadrunners, 57-31. The Munford Lady Eagles placed third.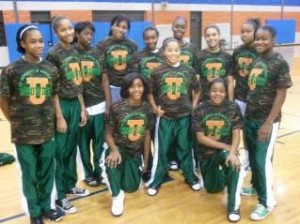 The Snowden girls team is comprised of (front row, from left) Dejah Montgomery, Miyah Barnes, Dejah Hughes; (back row) India Burse, Kayla Williams, Arethia Carter, Lyric Douglas, Emayne Robertson, Kyla Green, Kayla Nason, Rodrea Echols and Derykah Dailey.
Proceeds from this year's tournament will help fund salaries for part-time certified teachers at MAM's 14 youth centers in economically under-resourced neighborhoods. MAM works to help at-risk neighborhood youth improve reading and math skills, graduate from high school and learn lifelong money management skills.
MAM's mission is to use organized sports to share and model Christ to urban, at-risk youth, ages 6 to 18, and to foster unity among diverse segments of the community. MAM provides mentoring programs that address the physical, mental, emotional, social and spiritual development needs of inner-city youth.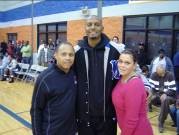 Penny Hardaway visits with MAM president James Armfield (left) and MAM volunteer Lauren Mayo (right) at the organization's tournament.
For information about how to participate in MAM's sports programs, to make a donation, or to volunteer, contact Suzanne Crawford at 744-6261, ext 125 or visit mamsports.org.
Anne Chambers is the communications director for Memphis Athletic Ministries.