The Daily News
February 2013
Kroc Center Officially Under Way – By Eric Smith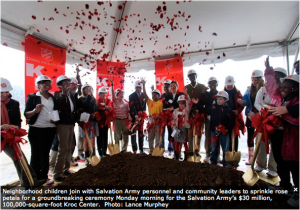 A five-year dream has become a reality for those who worked tirelessly to raise money and garner support for the multimillion-dollar Kroc Center of Memphis. The local chapter of the Salvation Army on Monday morning held a formal groundbreaking ceremony for the 100,000-square-foot center that will anchor the northwest corner of the Mid-South Fairgrounds.
The Memphis Kroc Center, to be built on 15 acres along East Parkway, will have a swimming pool, indoor and outdoor athletic fields, performing arts center and fitness area.
Though this project is separate from other fairgrounds redevelopment aspirations, officials hope the Kroc Center will become a symbol of community collaboration and commitment, perhaps sparking more investment in the rest of the property. And while the cold rainy weather outside might have otherwise put a damper on Monday's festivities, it only raised the spirits of those who packed into a tent on the construction site. "I don't care what's going on out there, this is a bright and beautiful day for our city," said Memphis Mayor A C Wharton Jr.
The local chapter of the Salvation Army raised $25 million for the project, which sparked $60 million in matching funds from the estate of Joan Kroc, the late widow of McDonald's founder Ray Kroc and the woman who bequeathed $1.6 billion to the Salvation Army when she died in 2003. That money was dedicated specifically to developing community centers nationwide, using the first Kroc Center – which opened in San Diego in 2002 – as a model. Each center is formally known as the Salvation Army Ray & Joan Kroc Corps Community Center.
Memphis was one of 31 cities chosen, but some of the other projects have been scrapped because of the economy. Despite the recession and subsequent decline in charitable giving, those working to bring the Memphis center to fruition persevered through years of fundraising. "Now there's no mistake that this is happening," said Steve Carpenter who will serve as director of the Kroc Center.
The fairgrounds site was chosen because it sits in the middle of the city and connects neighborhoods as diverse as Orange Mound, Cooper-Young, Beltline and Chickasaw Gardens. The location – as well as the mission of the center to reach people through recreation, education, the arts and worship – prompted the Salvation Army and its marketing team to adopt the to theme, "Come Together."
That mantra drove them throughout the fundraising process and was a fitting description of Monday's celebration, where city, business and community leaders gathered to commemorate each step of the journey. "We've been able to experience little pieces of this along the way," Carpenter said.
The Kroc Center will employ 35 people and a trio of companies will also have staff inside the facility: Memphis Athletic Ministries, the Urban Youth Initiative and the C.R.O.S.S. Fire