THE COMMERCIAL APPEAL
Friday, February 5, 2010 | Memphis, TN | My Life – Germantown/Collierville
---
C'ville 8th-graders are

 MAM tourney champs
By Anne Chambers
 Special to My Life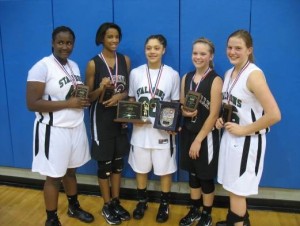 Madeson McCaster (left), Amber Braxton, Marisa Knox, Sydney Smith and Elise Holden, all of Collierville, were named to Memphis Athletic Ministries All-Tournament team.  The basketball classic is the largest fundraiser of the year for the ministry. 
The Memphis Athletic Ministries (MAM) Basketball Classic, the largest fundraiser for the ministry, hosted 149 teams, including boys and girls divisions, competitive teams, as well as ninth-grade high school teams and middle school teams.  
Collierville was represented by its eighth-grade middle school girls' teams. The Schilling Farms Lady Stallions won the girls middle school championship game.  
Marisa Knox received the Most Valuable Player award. Madeson McCaster and Elsie Holden made the All Tournament team. 
The eighth grade Lady Dragons from Collierville Middle School placed second.  Representing the Lady Dragons on the All Tournament team were Amber Braxton and Sydney Smith.   
In other action, the St. George's  Independent School placed second in the boys high school division.