THE COMMERCIAL APPEAL
Sunday, January 31, 2010 | Memphis, TN | My Life – Cordova/Bartlett
---
Shooting hoops
to bring hope
Athletic ministry hosts tournament fundraiser
By Anne Chambers
 Special to My Life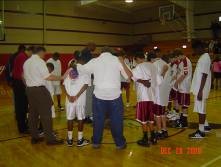 Kirby Middle School and ECS players pray together before their game during the Memphiss Athletic Ministries (MAM) Christmas Basketball Classic.    
The Memphis Athletic Ministries (MAM) Christmas Basketball Classic, the largest fundraiser for the ministry, hosted 149 teams including boys and girls divisions for ages 8, 10, 12, 14, 16 and 18 and under recreational and competitive teams as well as ninth grade high school teams and middle school teams.  
The tournament concluded with the ninth grade high school and eighth grade middle school championship games.     
The Bolton High Wildcats ninth grade boys team won the high school championship division by defeating St. George's 41–19.  
In the eight grade middle school championship games, the Cordova Cougars defeated the Craigmont Chiefs 52-33. In the eighth grade girls division, the Schilling Farms Lady Stallions defeated the Colllierville Middle School Lady Dragons 29-20.  
In other action, the ECS Eagles seventh grade girls won their division. 
The major sponsor of this year/s MAM  Classic was Juice Plus+.  Presenting sponsors were Federal Express and the Memphis Grizzlies. Flinn Broadcasting was the media sponsor.  
Proceeds from this year's tournament go to establishing computer labs in new MAM sites, four former City of Memphis community centers, as well as other MAM centers located in economically under-resourced neighborhoods. Computer labs will enhance MAM's academics and personal financial responsibility training programs. The goal is to help at-risk youth improve reading and math skills, graduate from high school, and learn lifelong money management skills. 
In addition to the school age youth, these computer labs will also serve older unemployed youth by requiring them to participate in computer-based classes to help them improve their personal status in order to use the recreation facilities.  
MAM's mission is to use organized sports to share and model Christ to urban, at-risk youth, ages 6 to 18, and to foster unity among diverse segments of the community. MAM provides mentoring programs that address the physical, mental, emotional, social and spiritual development needs of inner city youth.   
For information about how to participate in MAM's sports programs, to make a donation, or to volunteer, contact Suzanne Crawford at 744-6261, ext 125 or visit www.mamsports.org.